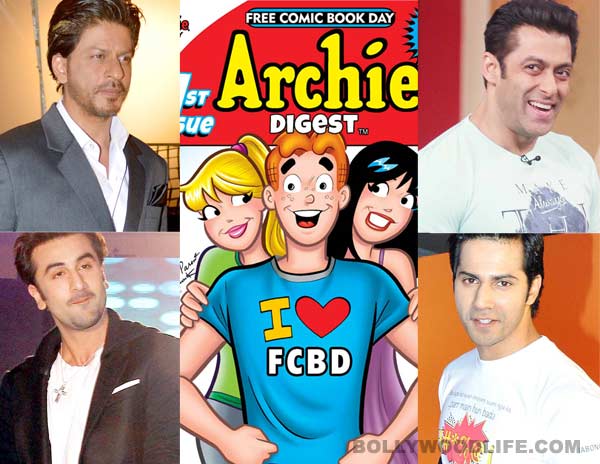 skip advertisement
Shahrukh-Ranbir-Salman-Varun
Who among the B-townies will be a perfect choice for being in the desi version of the famous comic series. Read on and vote…
Archie Andrews, will be no more! We are sorry to break the news to all the comic book fans but what we couldn't take our eyes was the fact that he will have a very Bollywood style death. As per the latest update,  the loveable Archie will die trying to save life of a friend in trademark Archie style in the July installment of Life with Archie. So we decided to figure out for all you fans as to who among Bollywood might be a good choice to play Archie. Also, Archie cannot be spoken of without associating him with his ladyloves – Betty and Veronica. So who would these Bollywood Archie's look good romancing as Betty and Veronica? Let us find out…
Ranbir Kapoor: He has been the eternal playboy of the film industry. Right from the moment he made his first movie he got linked to Sonam Kapoor and then his focus shifted to Deepika Padukone and presently with Katrina Kaif. Although Sonam cleared the air saying that Ranbir is just a good friend, Ranbir still seems swinging between Deepika and Katrina. Ideal plot for a movie on Veronica-Archie-Betty! Wink, wink!
Varun Dhawan: After his first film released, people really loved the pairing of Sidharth Malhotra and Alia Bhatt, but it was Varun who won the pretty girls's heart in real life and she has been vocal about it, even on Koffee with Karan. But after Varun's latest release his co-star Ileana D'Cruz has also been talking a lot about her special friendship with Varun. Now we wonder what would it be like to see the three together in an Indian version of Veronica-Archie-Betty?
Arjun Kapoor: We already were trying to figure out whether Arjun has already proposed to Alia Bhatt considering their over the top PDAs off late, but after watching the latest episode of Koffee with Karan, we are also wondering whether there is something brewing between Arjun and Parineeti Chopra as well. Considering that Pari and Alia are 'good' friends now, it will be interesting to see who will finally get the coveted crown of being Arjun's love interest. For sure we want to see the three together as Veronica, Archie and Betty!
Salman Khan: The quintessential bad boy of B-Town Sallu miyan has been romancing many leading ladies from generations but it was his pairing with Aishwarya Rai (now Bachchan) that was the most spoken of. Also Salman's relationship with Katrina Kaif lasted for a long time and the two were literally inseparable. Even after their break-up they have maintained great rapport and Katrina somehow seems to have that possessive attitude towards the Dabangg dude. Now having Sallu's two ex-girlfriends pitted against each will be a good enough Kat-fight for the Indian version of Veronica-Archie-Betty. Right Bollywoodlifers?
Shahrukh Khan: The lover boy of Bollywood, who has been making girls go weak on the knees since a long time, will definitely have be able to woo his "good friend" Priyanka Chopra. But her close camaraderie with Kajol might just put an impediment to that.  Both of them are really outspoken and tend to open up their hearts out for the public. And that might mean the two leading ladies will be ready to  forget all ethical codes of morality to win. That itself is enough to let us envision them in an Indian version of Veronica-Archie-Betty.
So BollywoodLifers, go ahead and let us know as to who do you think will be the best B-townie to play the clumsy lothario Archie whose freckled face is among the most recognisable in American comics. Also, who will be perfect for playing the two bumbling jocks in Archie's life, one is the blonde good-girl Betty, and the other is Veronica, a bad girl with blue-black hair. Vote!