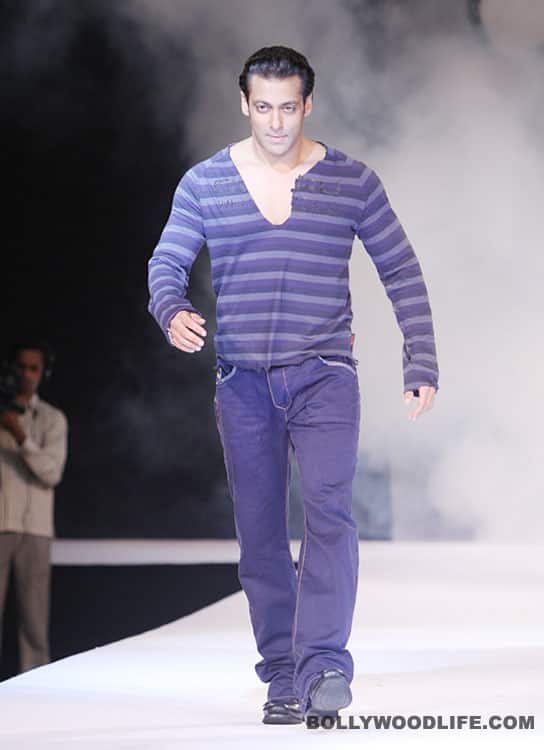 Not too long ago, 'realism' in films was the thing. However, with Wanted and Dabangg, Salman Khan managed to bring back the '70s type masala entertainer that had critics and audiences alike dancing in the aisles. On a sunny afternoon in Mumbai, the superstar talks about his re-found glory, marriage and Being Human…
Salman Khan is no longer an elusive man. The magic of movies (read film promotions) has enchanted him as well. So there I was at Filmcity waiting for the Dabangg dude to give me some time to chat about Ready, his next film. The actor usually arrives two to three hours later than the designated time, but it's my lucky day – he arrives only an hour late. Dapper in a light blue T-shirt and black pants, Salman settles down to being friendly…
Wanted was a remake of a south Indian film. So is Ready and so are some of your forthcoming films. Is this a deliberate move?
Apparently the punches and dialogues are in those films. I don't know if this is a coincidence. Earlier they used to copy our films because we made films on heroism. Most of my father's scripts have been broken down and copied in the south. Now Dabangg is being remade there. When you do Hollywood remakes, the whole world is watching. But these films have not been seen except by people from that region. Also, they have not let heroism go. Suddenly we have gone into these phases of making love stories, rom-coms, niche films, gay films…
Today everyone is doing different and niche films…
I don't think anybody is doing that anymore. I think from Amsterdam they want to go down to Andheri. And I don't want to do neech (niche) films (smiles).
It looks like you have finally hit upon a success formula…
No, it's not like that. I am sure I would go wrong in that formula as well. Because once you start doing something, you tend to get carried away. You start taking that image to be you and think you can do anything, so then it gets farfetched and you become a caricature of yourself.
Don't you fear being typecast as this larger-than-life hero?
What's wrong with that?! You are enjoying it!
Last year you were nominated for so many awards and won some as well. Do you think people have woken up to your talent at last?
I don't want any awards. I don't go to awards functions. In fact, I tell my producers also to not put me as a nominee in the Best Actor category. When that one nominee section is vacant, it can go to somebody else.
But every actor – big or small – craves for that the kind of recognition…
I get it when the theatres are full. I get it when I hear the claps in the theatres. When the film goes from the single theatres to multiplexes – that's also an award for me. I'd rather believe in these rewards than those awards.
When films were failing at the BO you hit the jackpot. What did you do right, d'you think?
There were also times when everyone's films were working and my films were bombing, left, right and centre. But I didn't panic at that point of time, because I knew those films were going to bomb. I had to do them because I liked the script, but I could not put my foot down. Today I have realised one thing: the guy who pays 10 rupees and someone who pays 500 rupees to see the movie – I have a responsibility towards them.
One hears that you have been deeply involved in the making of your films, from the script to songs to the editing…
I always did that. But when you get kicked in the ass, na, you'll always go two steps forward.
Does that mean like Aamir, you too would like to get into direction?
No. But I will work under Aamir's direction, when I have lots of time, hanh!
Today, before we started chatting, you were at a Being Human activity. Aren't you tempted to tie up your charity work with your film promotions?
That was not part of the promotions at all. I haven't started to publicise the film (Ready) yet. This new funda has come out that you need 15 days of promotion. So I will be doing all this, but I want to make sure that there are 15-20 places where I can go to help people under the Being Human banner and then come back. Let's not just go and smile in front of the camera. I think that's the biggest fraud of all. I hope that after me, other people catch up with this concept and have a competition of doing charity using publicity money.
Aamir Khan told the media that he wishes you would get married. And he said it would be possible by tying your hands and legs….
Tell Aamir that I will tie up his hands and legs and see to it that he does not get married again!
On that, the superstar remains elusive…