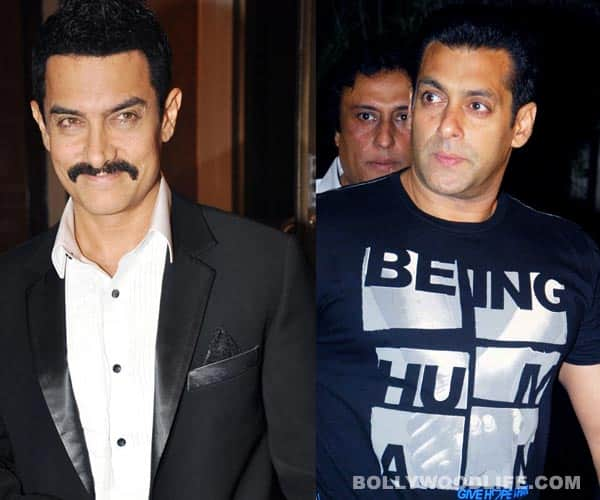 The blockbuster Khan has turned down offers that pit him against Mr Perfectionist in Aamir's ambitious television debut
Both Aamir Khan and Salman Khan have been very friendly for the longest time and there is no way that they will cross each other's career paths deliberately. The Talaash actor is all set to make his television debut with Satyameva Jayate and it is being touted as the next best thing to happen to the small screen in recent times. The talk show is supposed to air on Sunday mornings and will be simultaneously telecast across eight channels and dubbed in different languages. Buzz is that Aamir will break all possible TRP records.
This has created a stir among other TV channel officials who are losing sleep over this serious threat presented by the star. We heard that in a bid to counter this attack, smart cookies at many popular television companies came up with many winning ideas for serials that Salman could host – thus pulling in the TRPs big time – thus nullifying or at least minimising the damage causable by Satyamev Jayate. Little did they know that the 'Dhinka chika' dude is fiercely loyal to buddy Aamir and no one could lure him with mere moolah.
The Dabangg actor has been turning down all these offers to ensure that his buddy's TV debut doesn't take a beating. It is a known fact that Salman is probably one of the most successful hosts on the idiot box where TRP ratings are concerned. It would have been a big hurdle for Aamir if he had to cross swords with Salman. Thankfully sanity has prevailed al around and Sunday mornings will be reserved for the Ghajini dude, who has invested a lot (and not just money) in his show. We wonder what would happen if Shahrukh Khan – not a friend of either Salman or Aamir – decides to play dirty and comes up with an idea to take on the 11 am Khan. But we really hope that this will not happen, even though it would boost our TRPs at Bollywoodlife!
ALSO READ: 'Satyamev Jayate' theme song: watch video