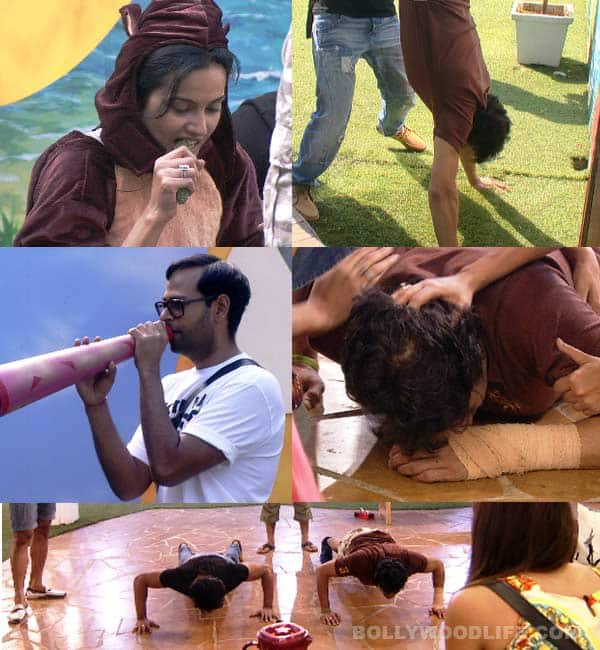 Salmans' high voltage reality show will witness a task named after SRK's film
It's been almost five years since Salman Khan and Shahrukh Khan have turned foes from friends. The two have never stopped from taking digs at each other since then. Now we have learnt that Salman's reality show Bigg Boss 7 is all set to have a task named after Shahrukh's film. Yes, you heard that right. 
In tonight's episode, Bigg Boss will introduce this week's luxury budget task – Kabhi Haan, Kabhi Naa where he will place the power to decide daily tasks in the hands of the contestants. For the duration of the task, the Bigg Boss 7 housemates are divided into two teams – the Hukumat team comprising of Ajaz Khan, VJ Andy, Sangram Singh, Sofia Hayat and Tanishaa Mukherji, and the Virodhi team comprising of Armaan Kohli, Gauahar Khan, Kamya Punjabi and Kushal Tandon.
As a part of the task, the Hukumat team has to give the Virodhi team various tasks throughout the day, to which if the Virodhi team says No, the Hukumat team will earn a point. The first person from the Virodhi team to be asked to perform a task will be Armaan. He will be asked to do a hand-stand in the sun for half an hour. However, the Virodhi team refuses to do it claiming that the task is impossible to achieve. After considering their perspective, the Hukumat team agrees to reduce the time limit to 12 minutes. Armaan will agree to participate in the task, but will fail to complete it.
The next task will be given to Kamya, wherein she will be asked to eat five karelas in 15 minutes, wearing a monkey suit which she promptly agree to complete. However, after eating two karelas, Kamya will be unable to eat any more and fails at completing the task. Next Kushal and Armaan are asked to balance themselves in the push-up position for 10 minutes. But, after balancing for about two minutes, Armaan will give up owing to pain in his hands. In between the task, both the teams will be seen arguing with each other over the possibility of completing the tasks being assigned to them.
Will this week's task create some more tamashaa inside the house? We hope so. After all Bigg Boss 7 without tamashaa is like birds without wings, right?