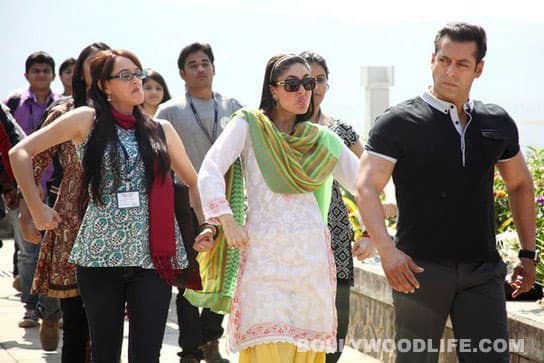 Is going to the movies the same as going to a nightclub?
It's that time of the year again. A Salman Khan movie has been released and we are playing out a familiar ritual. The film is a blockbuster— Bodyguard has had the highest grossing first week in the history of Indian cinema. But critics have panned it, earning the predictable battering from legions of Salman fans. My Twitter timeline is filled with abuses—from 'sadistic' and 'witch' to unprintable epithets (and this when I didn't even review the film; I just wrote a column positing Salman as Bollywood's last rockstar).
In a post-release interview, Salman said that the opinion of critics hardly mattered since it was four people in a population of one billion. He said: "The aam janta goes to see a film jo unke mood ko theek kar sake. People don't have the time or patience for heavy-duty stuff. They come expecting to have fun, the way they would if they went to a nightclub."
Is going to a movie the same as going to a nightclub? There are many schools of thought on the function of cinema. Bollywood's biggest names insist that escapism and entertainment are the primary ones. In a recent conversation, Farah Khan said to me that films must entertain. "If I want preachy-chatty, I'll read a book or I'll go for a lecture." I remember interviewing Shahrukh Khan just before the release of Om Shanti Om. I asked him if he aspired to success or greatness. He replied that they were interchangeable. He said: "I think films are meant to be entertaining, and a part of the craft is to be able to entertain. If you can't entertain, then your craft can go lay an egg, it doesn't make a difference… the bottom line is entertainment."
But some (a minority perhaps) hold a different view. Sean Penn, arguably one of the finest actors working today, once said, "People very happily and proudly say there's room for entertainment, strictly for its own sake. I disagree with that. I think if you want entertainment, you get a couple of hookers and an eight ball. Film is too powerful a medium to be just that. There's got to be some kind of journey and risk taken, so that it's exciting not only for the audience but also for the participants."
I agree with both. I want movies that transport and enlighten and seduce. I want films that give me a sensory head-rush, that force me to think or don't allow me to breathe. I want excitement and insight and a window into new worlds. And I'm all for escapism. As American critic Charles Taylor wrote: 'If it's reality you want, what are you doing at the movies?' But I wonder, is lazy, shoddy cinema being inflicted upon us in the guise of entertainment?
In a wonderful essay called In Defense of the Slow and the Boring, The New York Times critic AO Scott writes that the insistence on entertainment actually 'masks another agenda, which is a defense of the corporate status quo'. Which means that the Powers That Be—studios, filmmakers, marketing mavens, number crunchers—don't want to raise the bar higher. Because it's much easier to make Pirates of the Caribbean Part 4 or Double Dhamaal or the new Anees Bazmee film with the justification that the public just wants entertainment.
Actually, even Ingmar Bergman's commandments on filmmaking include: 'Thou shalt be entertaining at all times' (the other two are: 'Thou shalt obey thy artistic conscience at all times' and 'Thou shalt make each film as if it were thy last'). The key here, I think, is how you define entertainment. For me, going to a movie is much, much more invested than going to a nightclub. After all, if you only expect industrial-strength mediocrity, Bollywood is happy to comply.
By Anupama Chopra for The OPEN Magazine
Courtesy: www.anupamachopra.com
The author tweets at @anupamachopra
ALSO READ:
Salman Khan: Bollywood's rockstar
Karisma, Madhuri, Sridevi: The comeback girls
BOOK REVIEW: Anupama Chopra's 'First Day First Show'
The celestial status of our stars