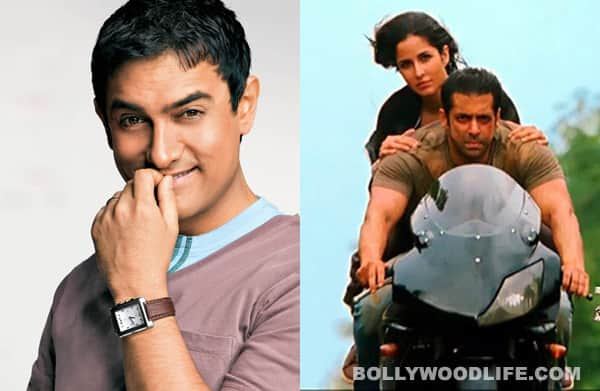 Aamir Khan shows his support to friend and fellow actor Salman Khan for his film Ek Tha Tiger
Aamir Khan loved the promos of friend and actor Salman Khan's film Ek Tha Tiger, and is looking forward to seeing the film. Aamir says that it will be successful at the box office.
Produced by Aditya Chopra for Yash Raj Films, the romantic thriller will see Salman pairing up with Katrina Kaif. Directed by New York fame Kabir Khan, the film is set for August 15 release.
"I haven't seen the film. But I liked the promos a lot and I think this will be a superhit. I texted Salman, Kabir saab and Adi (Aditya Chopra) that I liked the promos," Aamir told reporters in Mumbai.
Ek Tha Tiger promos have been banned in Pakistan following allegations that the film portrays the neighbouring country's intelligence agency ISI in a bad light. When asked about this, Aamir said: "I will see it for sure. But I don't know why they are not showing it in Pakistan."
Talking about a particular scene in the film where Katrina is telling Salman it's high time he should get married, Aamir says he hopes his fellow actor pays attention to the suggestion in real life. He said: "We have been telling him to get married since a long time now. He didn't listen to us. Maybe he will listen to Katrina."