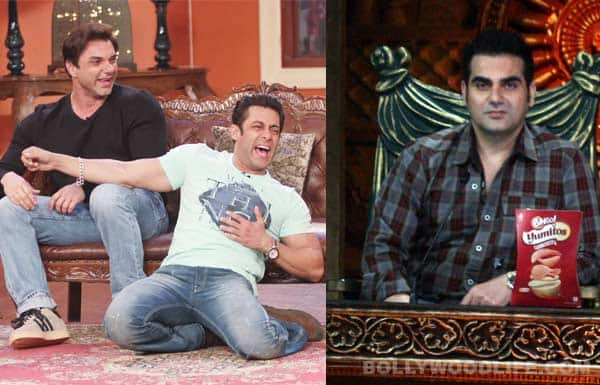 Apparently the makers of Comedy Circus have decided to replace Arbaaz as the judge of the show. But why?
Sohail Khan along with his latest film Jai Ho's star cast – Salman Khan and Daisy Shah – had quite a laughter riot when he appeared on Kapil Sharma's popular comedy show, Comedy Nights With Kapil (CNWK) to promote his film. But his decision to make an appearance on CNWK, has apparently irked the makers of Comedy Circus (CC), which happens to be the rival show of Kapil's funny ha ha series.
"With Salman Khan's Jai Ho up for release, the producers were keen to have the film's starcast make an appearance on their show. Instead, Sohail opted to turn up on a rival show and this didn't go down well with the producers of Comedy Circus.", a source was quoted by a tabloid.
As you all know, Sohail's association with Comedy Circus is an old one, as he had judged the earlier two seasons of the show. But since the filmmaker had to start shooting Jai Ho, he passed the baton to his brother Arbaaz Khan, to fill in for him as the judge in the current season. But now, after Sohail's appearance on CNWK, the producers of CC are so miffed, that they have decided to not renew Arbaaz's contract with the show. And as a result, Shekhar Suman, who has been a part of the show earlier, will return as the judge.
Bechaara Arbaaz…is paying a hefty amount for brother Sohail's nasty deed. Well as they say in Hindi, kare koi bhare koi!