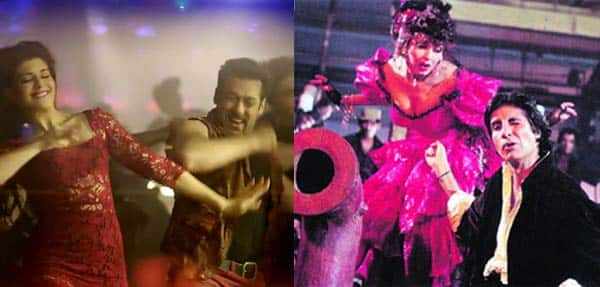 If you are wondering why are we comparing these two songs then read on to find out…
Salman Khan is all set to have a grand launch for the first song titled Jumme ki raat from his upcoming film, Kick this afternoon. However, apart from the term 'Jumma', Sallu miyaan's song very much reminds us of Amitabh Bachchan's hit song Jumma chumma dede from Hum. We hope that the Dabangg Khan gives us a number, which is a worthy competition to Big B's track.
If you have seen the trailer of Kick, you get a glimpse of Jumme ki raat. And Jacqueline Fernandez' hot red outfit bears a stark resemblance to the one Kimi Katkar wore in the Hum song. Sallu's antics on the other hand aren't exactly like that of Sr Bachchan.
Though the first look of Jumme ki raat in the promo might remind us of Jumma chumma dede, we hope it becomes as popular as the latter. Well, all we can do is just wait and watch. Keep watching this space for Jumme Ki Raat from Salman Khan's Kick!