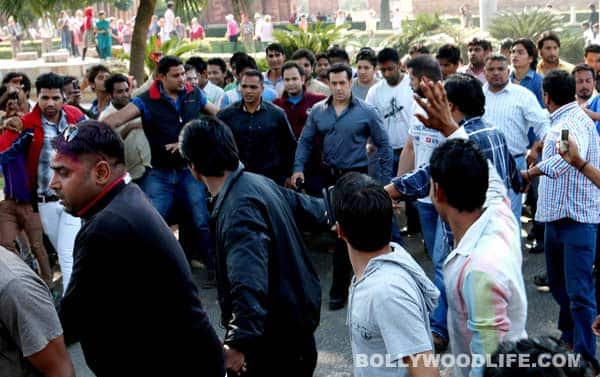 The Jai Ho actor was in the capital shooting for his upcoming film, Kick, where he had to face another hurdle
Salman Khan is a rare sight in the capital, the Dabangg star was shooting action sequences for his upcoming film Kick, which marks the directorial debut of Sajid Nadiadwala. However on finding Sallu in their city Delhi-ites went berserk. The crowd in the capital went bonkers as the Dabangg Khan, along with Randeep Hooda canned shots on the busy roads of Chandani Chowk and places around.
A unit source confirms, "The sight was crazy. It was difficult to manage such a massive crowd. They kept screaming the film's name and cheering loudly for Salman, as he waved back at them. It appeared as if the entire city was there."
That's not all. Apparently Salman's body double, who goes by just his first name Ajay in the industry, got seriously injured while filming an action sequence for Kick. Phir kya hua? Ajay was rushed to a nearest hospital and the shooting was called off for the day.
Apparently Salman has four body doubles for Kick as the movie has several deadly stunts. Considering that the actor's health has not been in great shape, we're sure neither the star nor his producers would wanna risk Sallu miyaan's naazuk health condition. With his body doubled injured, the actor had to call off for the day.
Sajid Nadiadwala's directorial debut had several hiccups before it started rolling full-fledged. This ain't the first time when this film has landed itself in trouble. First it was Sallu's health issues and court hearings that postponed the shoot and then there were his UK visa woes that brought the Glasgow schedule of Kick to an abrupt halt. If that wasn't enough, the film, which is slated to release this Eid, encountered yet another problem as it took ages for the makers to finalise a heroine for the film. After a long wait, finally Jacqueline Fernandes was roped in to play the female lead.
Anyway, now we hear that the cast and crew of Kick will be heading to Poland for their next schedule. Will there be any more problems? Well, we hope not.