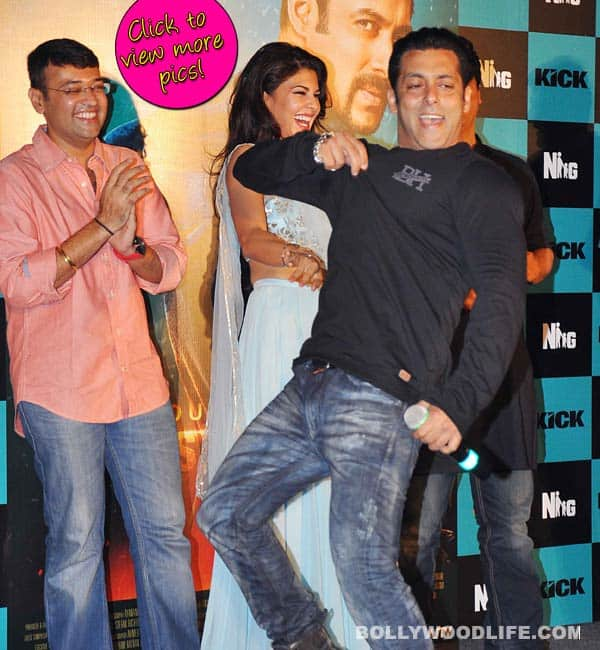 skip advertisement
When it's Salman you know the event is going to be more entertaining than the promo! The superstar stuck to his image and entertained the media with his signature antics. Here are five candid moments of the Jai Ho actor that we noticed at the launch of Kick promo:
Dance to avoid media questions: This was the superstar's new way to evade media questions. Whenever Mr Khan was quipped on his alleged ex girlfriend Katrina Kaif or his friend turned foe Shah Rukh Khan, rather than answering the questions, Salman began to dance on the stage, thus ignoring the questions. Very innovative Salman, we must admit.
Jai Ho's 3 fingers gesture: Though Jai Ho didn't do very well at the box office, the actor is still obsessed with the signature gesture and was seen sporting it through out the event. Even though the film tanked, Salman's belief of paying it forward hasn't.
Not letting the reporter's speak: Salman got the most irritated when he was questioned about his friend Preity Zinta's molestation case against Ness Wadia. When a reporter tried bringing up the issue and asking a question, Salman refused to let the reporter speak. In fact he didn't let the reporter ask any further questions. Now that's unfair Mr Khan!
Ignoring Nawazuddin Siddiqui's praise: When Nawaz had to share his experience of working with the superstar, he naturally said nice things about his Kick co-star. However, Salman began to laugh and said to the media,"Were you expecting him to say bad things about me. Why do you ask such questions which lead to unwanted appreciation?"
Grooving with Jacqueline Fernandez: The Bodyguard actor as usual was at his chivalrous best. While he offered a helping hand to Jacky to climb up the dais, he also shook a leg with the beautiful actor thus inviting a thunderous response from his fans and admirers. Just like his films, this was a perfect climax at the trailer launch.