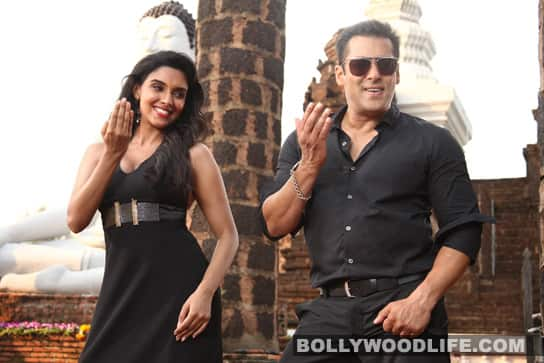 Stories of Salman Khan reaching the sets late might be true, but like most of his contemporaries the superstar keeps tabs on the proceedings. The 46-year-old actor reveals his various roles in the making of Ready
During the course of this interview Salman Khan reveals that many of his past flops were an outcome of his non-interfering attitude. He says, "I had to do those films because I liked the script and I could not put my foot down on the edit or scenes or the way I thought it would work. Otherwise you guys (media) would write stories of me using my power." With the recent success of Wanted and Dabangg, however, the superstar has learnt to put his foot down.
Be it suggestions, editing, songs, marketing – Salman is involved in every aspect of filmmaking with Ready. Apparently he insisted on re-shooting the songs Character dheela and Dhinka chika, as he was unhappy with the earlier picturisation. He affirms the rumour and says that he believes there was nothing wrong with it. "My responsibility is towards my audience. And that is the reason why we re-shot it. The songs look very good now."
As we talk more about the film he reveals that the song Character dheela was his choice. "Originally this song had a very different tune. I had heard about 30-40 tunes. I loved the tune of one of the songs, but hated the lyrics, so we interchanged it. We made one song out of two songs."
Zareen Khan dances with Salman in the song. Salman denies approaching any other female actor for the special number and makes it clear that his Veer co-star was the only choice. Classic film moments from hits like Shree 420, Sholay and Mughal-e-Azam have been recreated in Character dheela. The actor reveals, "We were doing the publicity of the film, so I wanted all these iconic posters from RK films to Dharamji to Maine Pyar Kiya and others. It was my idea was that the publicity campaign be based on that. It would not be exactly like those moments, but very modern, and fashionable in terms of clothing. Sadly, it did not work out. So the guy who has directed Character dheela, Mudassar Aziz suggested that we use that idea in the song, and that's how it happened."
That's not all that happened. From day one of Ready Salman has been closely monitoring every move. The actor does not like to watch originals of the remakes, but after hearing the narration of Ready, he got his dad Salim Khan on board for creative inputs. "Actually, he saw the film and had a few suggestions. We changed a few things. The emotions are the same, but their sensibilities (regional cinema) are slightly different from sensibilities here. Even the dialogues are a bit different. My dialogues right now are on a different tangent. They don't make any sense, but people seem to like it that way, so…"
While others actors might experiment, Salman only wants to entertain his audience. And he insists Ready is just about that. "Ready is today's Hum Aapke Hain Koun. I have taken myself from No Entry and put that into Hum Aapke Hain Koun. Now just imagine Anees Bazmee directing HAHK – what would he make of it? The father to the son to the uncle to the chachis, everybody in the film has the wicked sense of humour of 21-year-olds. There are a lot of double meaning jokes. It's a naughty film."
And will he be lucky at the box-office for the third time? "I am looking at a hat-trick and everyone wants that. Who wants a disaster! If there is a flop it means you compromised somewhere. Everybody wants to make a Mughal-e-Azam, Deewar, Zanjeer, Sholay, Hum Aapke Hain Kaun, Maine Pyar Kiya, Andaz Apna Apna… I can continue naming a lot of my films."
One thing's certain – there's no stopping the new Salman!