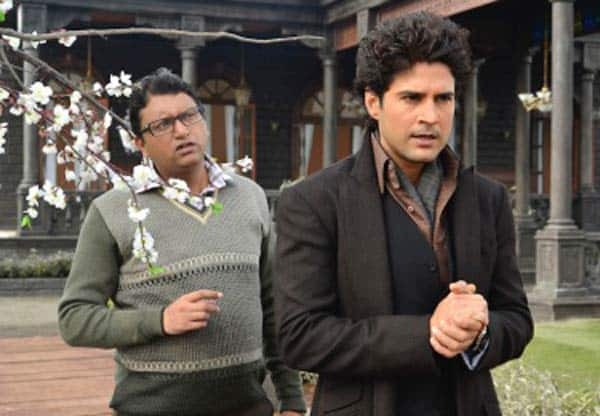 The first detective film of this year releases this Friday. Read on to find out if it is worth watching…
Rajeev Khandelwal's detective film Samrat & Co may be the first detective film of the season but it definitely will leave you than flabbergasted. I agree Bollywood doesn't produce quality detective films, but director Kaushik Ghatak, who is a Bengali by birth, should have taken some cues from Bengali literature, which is filled with classic cult detective novels—Feluda, Byomkesh Bakshi, etc. The movie has too many flaws to be counted and makes you laugh as to whether a detective, who is supposed to be a sane rational logical person, can do so many mistakes.
You won't believe this movie review till the interval, as the first half of the film is actually very mysterious and evokes many a meaningful questions in your head. You start the second half of the film on a very high note expecting all your doubts to be cleared and to witness a truly awe-inspiring detective saga, but all you get post the interval is a pot full of mistakes. To name a few, detectives don't talk much. On the contrary, they speak less and observe more. They think a lot in their minds but never speak it aloud like a Shakespearean soliloquy. Then again a detective murder mystery movie uses numerous characters to confuse the audience till the end as to who the real murderer is, but that's not the case here. There is definitely a deluge of characters but most of them come for about 30 seconds onscreen and thus you will never have an iota of doubt considering them as the real murderer. And lastly, it is not a compulsion to add a romantic angle in a detective movie. You should understand that a romantic angle in the middle, which makes no sense, diverts the audience's attention away from the mystery and suspense.
The Plot:
A young, beautiful and rich girl, Dimpy Singh (Madalsa Sharma), approaches Samrat Tilakdhari (Rajeev Khandelwal), a private investigator, with a strange case. How will Samrat unfold the mysteries and the new mysteries while solving the case is what the plot of the film revolves around.
Performances:
Rajeev Khandelwal performs well, but it seems that the director did not properly explain the role to him and thus his good acting skills will also make you guffaw. You are left to believe that the same guy can diffuse a bomb, pick up a girl in his arms and show off his karate skills to the villain, all at the same time. Gopal Dutt has given an equally good performance and he is the only one for whom you would want to watch the film till the end.
Rest of the actors like Madalsa Sharma, Girish Karnad, Priyanshu Chatterjee, Sujata Sanghmitra, Shreya Narayan, Indraneil Sengupta, Barkha Bisht, Ravi Jhankal, Puja Gupta, Navin Prabhakar, Rajneesh Duggal, Bhaumik Sampat, Pradeep Welankar, Smita Jaykar, Deepak Shroff, Ramgopal Bajaj, Anurag Jha, Ajay Bhandari, Gufi Paintal, Kabir Chopra and others have been wasted as they all get almost no time to show their skills off.
Verdict:
Produced by Kavita Barjatya, this was touted as a surprise package from Rajshri Productions, who are better known for their family dramas. But all the expectations are let down by director Kaushik Ghatak. Trust me Samrat is no Sherlock Holmes, Feluda, Byomkesh Bakshi or Hercule Poirot. If you love to see Bollywood mystery films and have nothing else to watch this weekend, better get yourself a DVD of Bhool Bhulaiyaa and rewatch rather than going for this squanderous stinker.
Rating:
out of 5
Reviewed by Prateek Sur
* Poor
** Average
*** Good
**** Very good
***** Excellent