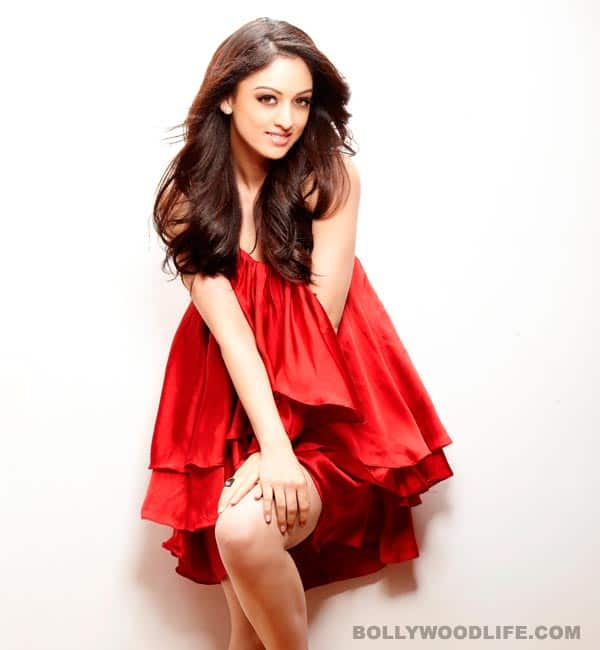 Not everyone gets lucky, with a chance to act opposite Salman Khan. Sandeepa Dhar did and she's super excited about it…
Sandeepa Dhar started her career with 
Isi Life Mein –
a romantic flick
churned out by Rajshri Films. The film tanked and Ms Dhar started contemplating her next career move. She talks about how ever since then she has felt the need to set criteria for selecting her films. And even though the fate of her first film didn't exactly call for a party, her second movie, Dabangg 2 with Salman Khan, is reason enough to set the ball of her Bollywood career rolling. Her third film is an out-and-out comedy called 
Pappu and Golu
 with Vir Das and Kunal Roy Kapoor. And as she proudly boasts about her new Viacom 18 project, there's an infectious confidence in her voice – the sound of which says, '"Look, I am here to stay!'.  Just like any other hardworking beginner, she has stars in her eyes too, and her rose-tinted glasses are on throughout the confab…
What's your role in Dabangg 2?
My character's name is Anjali and she's a typical small town girl who's extremely lively and vivacious. She lives with her grandparents and is the kind of person who will avoid conflict as much as she can. But if pushed to the edge, she wouldn't even think twice before taking serious action.
So what was it like sharing screen space with 'THE' Salman Khan?
I had a scene with Salman Khan right on day one. I didn't know what to expect; I wasn't aware of the way he works, which made me even more nervous. But it was really sweet of him to notice that I was getting all jittery. He made it a point to sit with me and make me feel comfortable – and it was important for me to feel comfortable, 'coz most of my scenes were with him.
Dabangg 2 has that small town feel?
Yes, this one is also primarily set in Kanpur, but the scale is much bigger. The action is much more larger than life and the romance is way more interesting, so obviously that takes Dabangg 2 a notch higher than the first part.
What was your first reaction when you got this opportunity?
I was shooting in Delhi for my Viacom 18 film and I got a call from Arbaaz Khan. I Initially I thought someone was playing a prank, but I was assured that it was him after a while. Arbaaz offered the film to me and he thought that the role was apt. More than anything, I was excited to work with Salman Khan. At the end of the day, Dabangg is what it is 'coz of Salman. It is a story about Chulbul Pandey. It's always very enriching to share screen space with someone who has been in the industry for 20-25 years. One of my favourite Salman films is Hum Aapke Hai Kaun. I was, of course, intimidated by him! I always had these preconceived notions about him. I always thought he was the serious sort. But now obviously I have a different perception of him altogether. He is a man who has a brilliant sense of humour.
Your debut film released in 2010, and now Dabangg 2 in 2012, a gap of two years – what were you doing all this while?
My first film released at the end of 2010. And I really wanted to be sure about what I signed on next. Because of the simple fact that my first film didn't do very well at the box office, I had to make sure that I am more careful with my second. So I took my time in deciding what to do next. I didn't find anything for six or seven months and then I signed up for Dabangg 2.
What were your criteria for choosing your next film?
I always had one thing in mind – that whenever I read a script or heard a narration, I would look at it from the audience perspective. If I was a part of the audience, I would ask myself whether I would watch the film or not. So I was very clear that if I am not able to justice to it, how will I do the role with all the conviction it needs? Also, I need to like the people I am working with. You spend so much time shooting, so it's very important to get along with everyone.
What kind of roles excite you? Would you like to stick to the bigger banners, or get experimental?
I don't want to be the kind of heroine who, if removed from the film, does not affect the story. There are a lot of films like that in which the girls are present just for the glamour. I want to contribute to the story somehow. I would love doing films like Kahaaniand Barfi!.
Any fun anecdotes about Salman Khan on the sets?
One day when we were shooting, I had this very intense scene with him. So I was constantly mugging my lines, preparing as much as I could. But when we started rolling, Salman started saying some different lines altogether. That moment was reminiscent of a situation when you have to give an exam and by mistake you have studied the wrong subject. Obviously it was a prank and they were all laughing about it. It was their way of making me feel a part of the unit. This was the general vibe on the set…
Everyone has been waiting to see if Arbaaz Khan has done justice to the role of a director? What are your views on him?
Honestly, I don't think any actor can ask for a better director, 'coz Arbaaz Khan has himself been an actor. He knew exactly how to deal with the scenes. A lot of directors tell you exactly what they want. But not many directors give you the freedom to comprehend the scenes your way. The film is looking kickass and I don't think anybody can tell that a first timer has directed it.
Tell us something about your look in the film…
It's mostly Indian, 'coz my character belongs to a small town. I have worn kurtis and jeans in the film. We have also tried different kinds of stoles.
Every actor learns something on the job – what did you learn from Salman and Arbaaz?
Salman Khan was constantly having fun on the sets; he's always so chilled out! I used to wonder when he really prepared for his scenes. But then I figured that he's always thinking about his scenes. That's something that one needs to learn from him. And the kind of faith Arbaaz Khan has in his actors is very inspiring. He lets them do their job. That's one trait I love about him.
Do you consider this the turning point of your career?
I don't know about that, but it's definitely a good opportunity.
Are you a private person, or don't you mind being an open book?
I have always been a very private person. That's one thing I hate about being an actor – your life is not yours, but everybody else's.
What's your style like in real life?
I love wearing dresses. My dress sense is nothing like the character's in the film. I love Malini Ramani, she creates some amazingly funky stuff. Zara is also one of my favorite brands. I don't like plain-Jane creations.