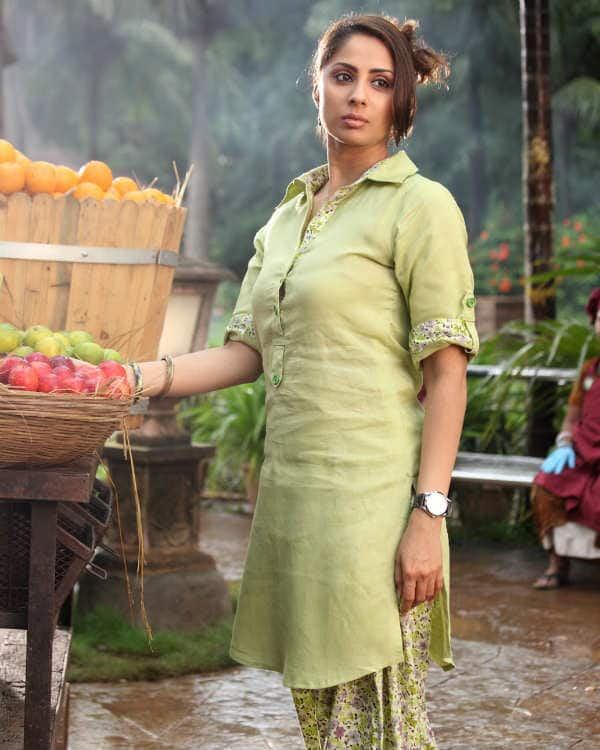 After six years away, the actor made a comeback to TV and started her second innings with Kehta Hai Dil… Jee Le Zara
Sangeeta Ghosh doesn't look like she's aged at all in six years. She is fresh-faced, with the glow of a newlywed and she still blushes at the mention of her husband. The actor talks about working with newbie Ruslaan Mumtaz, the similarity between the character and herself, life post marriage and the secret of her fitness…
How does it feel coming back to TV after so many years?
I'm feeling really good coming back to the industry. Once you become attached to this industry, it becomes a part of your life. I'm feeling extremely ecstatic coming back. I am so glad that so many people have given me their love and blessings and welcomed me with open arms. In fact, even when I was not working, people who met me would ask when I'd come back and start work again. At that time I didn't know, so I'd tell them maybe later. But today am thrilled to be back.
Where were you for so many years?
Well, I was here, just not doing daily soaps. I did a couple of reality shows in the meanwhile. Frankly, I've done a lot of work, fulfilled all my responsibilities, but while working I couldn't devote time to my family, my brother and myself. So I decided to take a step back and spend time with my family. In between that I got married; I became a part of another family and became more responsible for the happiness of both families.
How would you describe your role in Kehta Hai Dil…Jee Le Zara?
Saanchi is a very strong character. She is a 34-year-old girl who is unmarried. Her family is worried about her marital status, as they don't want her to be alone in life. It's not that she doesn't want to get married, but she believes that whoever becomes a part of her life should not stop her from fulfilling her responsibilities, even if he doesn't wish to assist her in doing so. Saanchi wants someone who will support her and at the same time let her be free and make her own decisions. She's practical, loves her family and treats her workers as family members. Saachi's parents died when she was young, but she believes that they're with her emotionally and spiritually. She has a jeep named Sher Singh, which her father used to drive; it's old but she still drives it, she still wears her father's watch – she's attached to these little things which in turn keep her attached to her family.
Everything seems very happy and too good to be true for now – how soon will things change? Will that in turn change your character?
For now yes, the family is happy. Saanchi knows how to keep them happy. However, if something were to happen to her Aaji or Nani, her world would crumble. And if things don't change in a daily soap, how will the story move ahead? All said and done, Saanchi knows how to handle a situation, as she was burdened with responsibilities very early in her life. Situations change people, but she's the man of the house and that will never change.
How did you prepare for the role?
When I first heard the script, I felt like they are narrating my own life to me, but of course the situations presented here are very different than mine. However, the way Saanchi's character handles people, work and the other things is very similar to me. We share a similar attitude in life too.
Out of sight is out of mind for any actor. How did you manage to retain your popularity?
I will give credit to all the people I've worked with before and the shows I've done. I have been lucky to work with good people throughout my career. The shows I did before must have left a mark on people's minds. I am just fortunate and lucky that way. In the past six years I many got offers of reality shows, fiction and non-fiction, but I didn't feel like taking up any of it. I wanted to focus on myself and devote all my time to my family. The only reason I decided to take this up is because my home is near the shoot location, so I'll be able to visit them in times of need and take care of my family. I'm able to manage everything and do the show only 'coz the production house is great and supportive.
What changes do you seen in the television after a six-year gap?
The industry and the people have become more professional. The units used to be smaller then, but now I see that the size has increased tremendously. Previously, one person would handle five things at a time, but now each function is handled by a separate team. Division of labour has happened and people have started valuing everyone's time. Everyone works like a family and it shows onscreen.
Tell us something about your marriage and your life partner…
I had a love marriage with Rajvi Shailendra Singh Rathore. He is a polo player and belongs to royalty in Rajasthan. I am called Ranisa there. We met at a riding school and he was my instructor. The horse that I was training on wouldn't move, so he told that if I take his name the horse would start moving. We fell in love and when he came to Mumbai, he asked me to marry him. He said, 'I don't want to have an affair with you. I've liked you and I'm in love with you, so what do you think about getting married to me?' The best thing about him is that he makes me laugh a lot; he respects his family that way I do mine and I love him. So I decided to get married.
So were your in-laws okay with your decision to act again?
I'm married into a Rajput family and they're not connected to this industry at all, so for them it's a fairly new thing. However, they've seen me before on television. People watch lot of television in Rajasthan. They were familiar with my work before marriage, plus I have a very supportive mother-in-law and husband. My mom-in-law is actually like a friend. In fact, they advised me to go back to acting if I wish to. They've never stopped or questioned me. I think I'm very lucky, touch wood!
So would you consider doing Nach Baliye – the dance reality show – with your hubby?
My husband has to agree for that – if he does, then why not!
How was it working with Ruslaan?
Oh, it's very nice. Ruslaan Mumtaz has no tantrums at all. He's a very sweet boy. He comes in the morning, gets ready, and wants to do rehearsals. He's very interested in what he's doing, which is very good. He may have had a certain perception, but when we started working, everything was perfect. We discuss work more than anything else, but that doesn't mean we don't have fun on the sets.
On the show there's a seven year gap between you two – what's the age difference in reality?
That I'm not aware of. I haven't disclosed my age and neither has he told me his.
When you entered the non-glamorous phase of your life, how did you detach yourself?
Honestly, it was not that touch to detach myself. When I go there, I wear the traditional Rajasthani attire like the ghagra, kurti, kachni, odhna and gorla. It's not like anyone forced it on me, but as I've never worn these things in Mumbai, it is fun. Plus, I look pretty in it.
How have you kept yourself fit?
That's something even my mother-in-law asks me. I take care of myself 'coz I love myself; I work out, exercise, regularly monitor what I eat and drink. Most important of all, I stay happy!