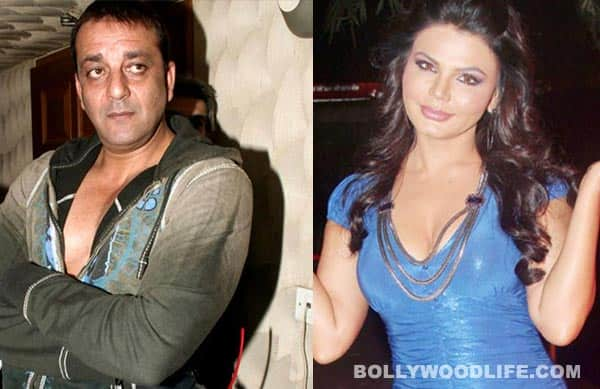 Veteran actor Rakhee Gulzar and item girl Rakhi Sawant have both spoken on Sanjay Dutt's five-year jail term – and their individual statements reveal opposing views on the court verdict
While it was indeed heartrending to see Sanjay Dutt break down on live international television, it is also worthwhile to bear in mind that nobody is above the pale of law. Amidst the televised tears, two women have added their statements to the issue – one a dignified legend of Indian cinema and the other, legendary for her constant pursuit of fame, losing any shred of dignity she had in the process.
Let us begin with Rakhee Gulzar. This is what she had to say:
"It breaks my heart to say this. I love Sanjay like my own child. I've been associated with that wonderful family from the time I did Reshma Aur Shera, which was my first film with Sunil Dutt saab. Sanjay has grown up in front of me. I remember him as a lonely child. After Nargis' death, Dutt saab got busy with various activities. I remember at the outdoor location of one of my films Sanjay had lice in his hair and his lips had gone white because of a vitamin deficiency. He is basically a very loving and affectionate boy. But he got into the wrong company… And look where it has landed him today (Rakhee bursts into tears here). I know how much he has gone through. But to say that his jail term should be pardoned because he has suffered a lot is insensitive to those whose lives were shattered by the 1993 bomb blasts. Instead of spending 20 years pleading innocence and victimisation, Sanjay should've accepted he had made a mistake, served his full sentence and started his life afresh. Instead his advisers, hangers-on and those lawyers are mis-advising him. Today, I see his so-called friends shedding tears and pleading for leniency. If he's pardoned the common people's faith in the legal system would be shaken. Instead, Sanjay should accept the court's verdict with dignity and serve his sentence. His conscience would be clear. He will be loved and respected a lot more for accepting and abiding by the court's verdict."
And at the other end of the spectrum we have the incomparable Rakhi Sawant, who weighs in with: "The law is supreme and everyone has to bow to that. But I think Sanjay has been punished enough for his folly. Now, he has a wife and two small kids whereas I am not even married. Nobody is dependent on me so it will be easy for me to spend time in jail. Bhagwan bhi mauka deta hai sudharne ke liye and Sanjay wants to improve. He is saying mujhe jeene do, so why not give him a chance. I appeal to the courts to allow me to go to prison instead of him."
We think it's an excellent idea, but with one modification. Rather than instead, we pray to his Excellency the presiding judge that Rakhi too be locked up and the keys thrown away. We rest our case Milord.
ALSO READ: Sanjay Dutt's statement on Supreme Court's verdict: I am shattered