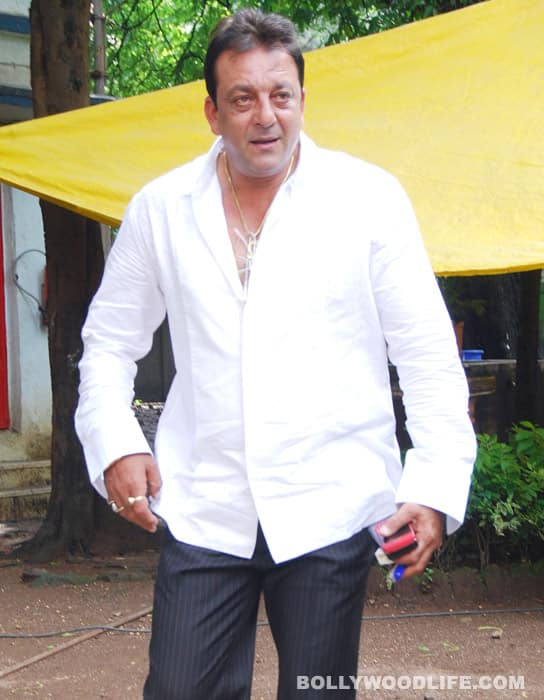 What do you think – will the Agneepath baddie do justice to Pran's role in the original Prakash Mehra film as the bad-man-turned-best-friend in the modern version of the '70s classic?
We are still waiting to get over Sanjay Dutt's wicked laughter and philosophical dialogue in the new version of Agneepath and news has come in that the 50-plus actor is being considered for another remake: Zanjeer. But his role in this one will be completely different from Kancha Cheena – this one will bring out his good side. For those who don't know, Shootout At Lokhandwala director Apoorva Lakhia is supposed to helm the modern version of the '70s super-hit cop and thief tale, Zanjeer, originally starring Amitabh and Jay Bachchan, and Pran.
As we said earlier, the filmmaker wants Sanju to play the third most important role in the plot, Sher Khan. In terms of physicality, we think the big and bulky Sanju looks drastically different from the then average-built Pran who played the Pathan's role in the original. However, looking at how comfortably Sanjay slipped into the shoes of the villain, it will be easy for him to make his way into people's hearts as the affable foe-turned-friend too. Remember how Pathan Sher Khan's friendship and devotion in Zanjeer started a trend of movie plots with two best friends back in the '70s? The popular song in the film, Yaari hai imaan mera yaar meri zindagi became an anthem for buddies during those days. Whether or not Sanjay Dutt and South star Ram Charan Teja, the actor who is supposed to be signed on for the role of Inspector Vijay Khanna, recreate that camaraderie onscreen depends on the writer's ability and the director's skill. But we think it will be interesting to watch Sanju as a henna-haired Pathan and perhaps challenging for him as an actor to portray it. What do you think?
ALSO READ: Abhishek Bachchan will not star in 'Zanjeer' remake