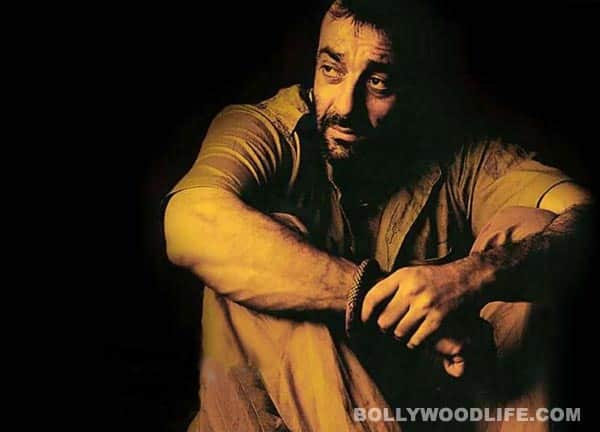 The actor has led a life full of nasty downs and a few happy ups
Sanjay Dutt, who was born to superstar parents Sunil Dutt and Nargis, first faced the camera as a child artist in Reshma Aur Shera (1972). But with all the pressure of being a celebrity child and unable to deal with expectations, Sanjay took to drugs very early; the fact that his mother had cancer pushed him further into the smoked-up world.
Mother Nargis passes away
Sanjay's first film Rocky released in 1981 and during that time his mother passed away. A devastated Sanju baba didn't find the emotional support he required from his father Sunil Dutt, because the elder too was drowned in grief. Drugs, as many say, was the only thing Sanjay found solace in.
Sanjay sent to rehabilitation centre
Sanjay delivered another superhit with Vidhaata in 1982. And his life revolved around rave parties. The media printed many stories that revealed Dutt's wasted lifestyle. And matters got so out of hand that Subhash Ghai refused to cast him for one of his movies. That's when father Sunil Dutt stepped in and sent Sanjay packing to America to a rehabilitation centre.
Sanjay's first marriage…and divorce
After coming back from America he married starlet Richa Sharma in 1987. They had a daughter (Trishala) together and for a brief while Sanju's life ran smoothly. The actor also worked in memorable hits like Naam (1986), Hathiyaar (1989), Saajan (1991), Sadak (1991) and Khalnayak (1993). But then Richa was diagnosed with cancer, and Sanjay's life again turned upside down.
Sanjay gets linked to the underworld
This was the time that Sanjay became linked to the underworld and in April 1993 was arrested for having illegal weapons in his possession – he claimed he had acquired them for personal protection. At that time, he spent approximately 18 months in jail. And he drew tremendous emotional support from his loved ones, especially his then girlfriend Rhea Pillai. Sunil Dutt, who had a strong political standing during that time, managed to release his son on bail.
Sanjay loses daughter Trishala's custody
Around the same time Sanjay was also fighting a bitter legal battle with Richa over the custody of their daughter Trishala. Richa succumbed to a brain tumour in 1996; Sanjay lost the custody of his daughter to her grandparents, based in the US.
Sanjay's second divorce and father Sunil Dutt's death
Sanjay started resurrecting his broken career and was seen in movies like Daud (1997). Daag – The Fire (1999) and Vasstav (1999). But while his filmi career was inching back on track, his marriage with Rhea was on the rocks and eventually they separated.
In 2004 Sanjay Dutt re-found stardom, thanks to Munnabhai MBBS, but soon after lost his father Sunil Dutt in 2005.
Sanjay sentenced to five years imprisonment
On July 31, 2007 Sanjay Dutt was sentenced to six years imprisonment. But he was released on bail soon after. He filed an appeal in the Supreme Court. Meanwhile, Sanjay fell in love with Maanyata aka Dilnawaz Sheikh in 2008 and the two have twins – boy Shahraan and girl Iqra – together.
But Sanjay Dutt's life has been toppled over yet again with the Supreme Court's verdict sentencing the actor to five years imprisonment.