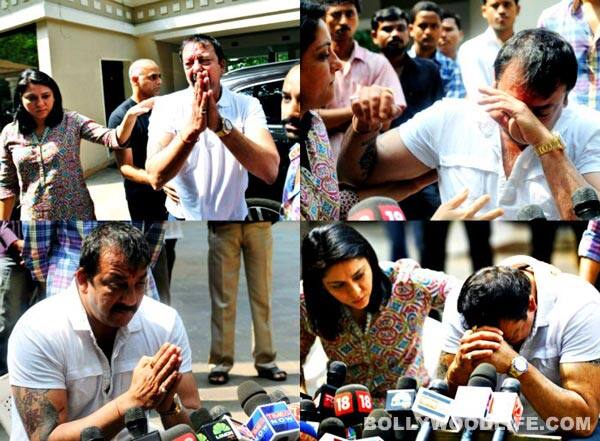 skip advertisement
The Zanjeer actor breaks down in front of the media as he announces in a press conference that he won't be applying for a pardon
At an impromptu press conference held outside his Bandra residence today, Sanjay Dutt broke into tears as he revealed that he will not be applying for a pardon, and that he will surrender in due time.
The Supreme Court had last week  sentenced Dutt to five years imprisonment for illegal possession of arms in the 1993 Mumbai bomb blasts case. "I have not applied for pardon. There are many others who deserve it. All I want to say is that I am a law-abiding citizen of this country; with folded hands I want to tell the media and people. When I am not going for a pardon, there is no debate about it. Right now, I am a shattered man. I have the highest respect for the honorable Supreme Court. I will surrender when the time is given. I love my country and I love the citizens of my country," said a remorseful Dutt, as he stood besides his sister, Congress MP Priya Dutt while addressing the media. The actor also thanked all the people who have supported him during the most trying phase of his life. "I want to thank everybody who supported me and want to say that I have a few days left and I want to finish all my work," he said.
While speculation is rife that Dutt will surrender in April, the actor plans to complete dubbing for Zanjeer by next week since the movie is almost complete and due to release on May 10. Although Sanjay may not be appealing for pardon, Justice Markandey Katju who had written to the governor of Maharashtra maintains that he will continue with the request for mercy for Dutt.
WATCH VIDEO:

PICS: