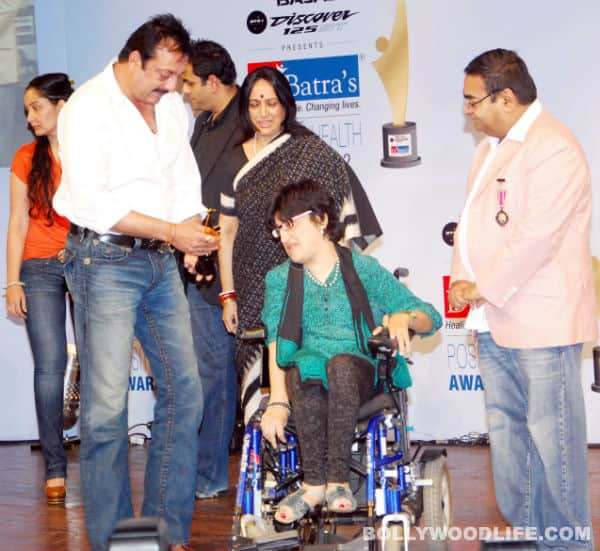 A petition started by a fan of Sanjay Dutt has already accumulated more than 1500 signatures
Sanjay Dutt is sentenced to five years of imprisonment as ordered by the Supreme Court. The actor has already served about 18 months in prison for the said crime and is now filing a review petition to challenge the verdict. If this petition is dismissed, Sanju baba will have to serve another three and a half years in jail.
This new has not gone down well with the fans, who believe that the actor is being chastise to make a point. Fans claim that the idea of jail time is to reform a person, not just to punish. And since Sanjay Dutt has already served time in prison and is a much better human being today why is the actor being put through this.
Apparently, one of his fans has started a petition 'Free Munnabhai' in support of the actor. Over 1500 people have already signed the petition. The petition reads: It's a sad day in the history of justice. After suffering for 20 years, Sanjay Dutt is now convicted for five more years. Is the legal system supposed to reform people or make them more hardened? Give him his 20 years back and take away 5. He has abided by the law and done tremendous social work. Is he a threat to the society? No. Then why are we making a good man suffer. Save our Munnabhai by joining our petition at
https://www.change.org/en-IN/petitions/the-honourable-supreme-court-of-india-please-review-sanjay-dutt-s-verdict#invite
Several petitioners expressed their support for Sanjay Dutt online:
G C – Kolkata, India
Law is blind. But like the blind, law is endowed with an inner eye as well. Let us have complete faith and confidence in our legal system. Sanjay has not only suffered, but has also matured into a human being of great worth. We need him here, outside among his fellow countrymen and women, M'Lord…not in the dark prison any more.
Jitendra Panikker –United Arabs Emirates
The man has already paid his debt to the society, This verdict is ludicrous and uncalled for.
Ramesh Yadav – India
Sanjay Sir is nothing short of an inspiration to every human being on this planet. He has always been a fighter, a friend to millions and a generous person. For him to go through all this turmoil over and over again is unfair. He is a patriot and a true Indian and until my dying breath, I will always support Sanjay Sir. I urge the courts to please review the case once again and free this man from something that he knowingly did not do nor was he involved in.
Nishant Badyal – Jammu, India
He is a changed man now, look at the number of charities he is sponsoring. For a mistake made 20 years ago, penalising a family man now is atrocious. I request the honorable supreme court to pardon him.
Rehab Uddin – Kuwait City, Kuwait
Sanjay Dutt has contributed towards nations in the form of charity, tax and supported many poor people. He deserves to be free since he has completed his suffering all these years in fear…
Amarjot Sangha – London, United Kingdom
As I have grown up watching Sanjay Dutt's awesome movies, I am also aware of how giving and charitable he is. He is a blessed man, who is being protected by God's merciful hand despite of the ordeal that he has suffered till date. His naive and vulnerable nature brought about this situation. His life has finally improved and I strongly believe that he deserves to continue making a living to provide for his family, as his children are also very small. He needs to continue shining like a star, true inspiration to the younger generation. I believe it is ridiculous that innocent people have to suffer whilst the real culprits are still lurking around continuing their evil deeds. The government ought to punish the real perpetrators that raped that girl in Dehli back in December last year. WE LOVE YOU SANJUUUU.. LET HIM BE
Abhish Philip – Overland Park, KS
Punishing a person who has proved himself of being good social person for the past 15 years is like not giving people encouragement to be good in society.
Guneet Deol – India
This petition is important because this verdict has unfortunately affected a reformed man ,who has not only suffered an ordeal for 20 years, but also served a sentence for it. Dutt is not only a reformed man, but also an exemplary citizen known for his charity and his goodness. It is sad that the blast case has been made about Sanjay Dutt even though he was acquitted by the courts for the same. The weight of his goodness outweighs his minor mistake, which was an emotional impulsive decision to protect his family.
Akshay Patel – Middletown, New York
Sanjay Dutt is already a changed person! Why punish someone who has already changed! Punish those government officials who are doing millions dollar swindles and still roaming free!
Bharat Singh – India
Sanju baba is a very soft hearted and generous man who did a mistake in his life and has suffered enough for that mistake. He is not accused in the Bombay blast case. He is guilty of keeping arms without license. The Supreme Court of India should also consider his behavior from past 20 years. I urge the courts to review the case once again and free this man from something that he did unknowingly.
Rinku Bhatia – India
Sanjay Dutt being such a good citizen and human being is my idol. I look upto him for his goodness. I am encouraged to do good work for the society looking at Mr. Dutt and his family. My humble request to the Supreme Courts is to please pardon him.
Disclaimer: BollywoodLife has no opinion in this matter, we are merely reporting news.