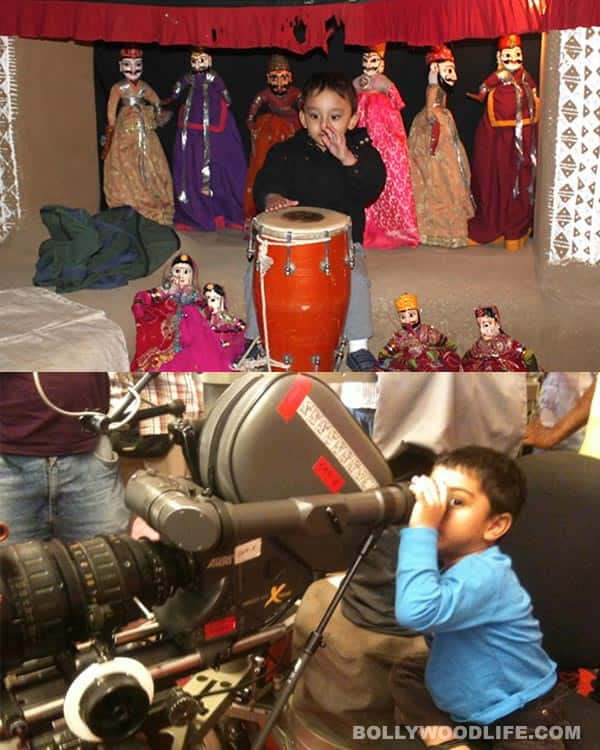 While Sanju baba's son Shahraan is a music buff and likes to play the drums like his rock star dad, Ajay Devgn's kid Yug seems to be interested in direction
It seems Shahraan and Yug have decided their career paths very early in life and already started working on it. Although Sanjay Dutt's twin babies Shahraan and Iqra are not allowed to watch movies just yet, Shahraan often watches his father play the drums at home and now he too plays musical instruments like the guitar and drums with his little fingers! So cute, no? During Sanjay Dutt's P.K. schedule in Rajasthan, a special puppet show was arranged in the hotel for their entertainment and on seeing a set of drums, little Shahraan enthusiastically went up on stage and started playing the conga to the family's amusement!
Ajay Devgn's chote sahabzaade, Yug, we heard is apparently calling the shots on the sets and instructing his papa to 'dance'. In fact, we hear that Devgn's son was on the sets of Himmatwala when the Bum pe laat song was being picturised and to everyone's surprise, Yug told his daddy dearest to start dancing during the break. The little moppet was spotted sitting with director Sajid Khan and Ajay, when he animatedly pointed at the camera and said 'Papa dance' as soon as the song started playing. Needless to say, Yug has impressed many on the sets to the extent that the film's cast and crew members have started calling him 'chote himmatwala'!