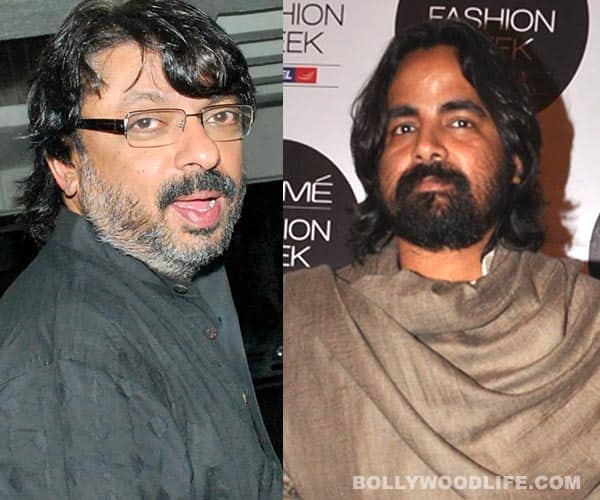 The intelligent director loses his cool more often than not. And the latest victim of SLB's volatile temper has been ace designer Sabyasachi Mukherjee with whom Bhansali had work in projects like Black and Guzaarish
What makes Sanjay Leela Bhansali a difficult man to work with? The otherwise cool and unassuming filmmaker becomes a very tough taskmaster on the sets of his films. He can be very strict with what he wants from his actors as well as from his team. The 50-year-old director is clear about his vision for his projects and is not particularly welcoming to ideas suggested by others. This rigid attitude, we hear, has been the cause of his recent fall out with designer Sabyasachi Mukherjee.
A little birdie chirped to us that Bhansali had creative differences with Sabysachi that led to the withdrawal of the designer from Ramleela – starring Deepika Padukone and Ranveer Singh in the lead. The maverick director was very sure about Deepika's look in the film and was not ready to take inputs. This unbending attitude did not go down well with Sabya and he decided to quit the film. This decision must not have been an easy one for the Bengali designer as his association with Bhansali has yielded some fantastic cinematic results in films like Black and Guzaarish. But now the two stand separated.
It's not just Sabya who has tasted SLB's low tolerance level. Earlier Aditya Narayan too had become the victim of Bhansali's fury when the enraged director threw the young singer's phone in anger. Ranveer Singh too was yelled at for his incessant pranks and got an earful from Bhansali. While both Ranveer and Aditya decided to put those bitter incidents behind them, Sabya instead chose to take a more drastic step by walking out of the project.
And now Bhansali's Saawariya muse Sonam Kapoor, one hears, has suggested a new name for the project. Anju Modi is now on board and we are curious to know how would the new designer dress Deepika's character.