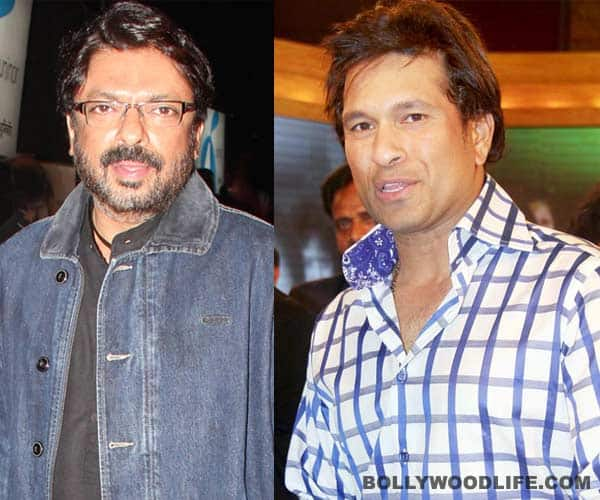 The filmmaker owes it big time to the God of Cricket
First up, Prabhu Samaj Dharmik Ram Leela Committee, if you really exist, we will not kowtow to your diktats and call Ram-Leela by any other long winded name. If you have a problem with that, bite us. That said, perhaps the whole title controversy was a cleverly constructed publicity stunt by Sanjay Leela Bhansali and producers Eros International, since the so-called chemistry between Deepika Padukone and her refreshingly free of acting skills, charisma and looks co-star was non existent. Wouldn't put it past them, since Saawariya and Guzaarish, both stolen from Western sources like Black, but unlike the Amitabh Bachchan look-at-me-I-am-trying-to-act film, were resounding flops.
Be that as it may, Ram-Leela is now out in the cinemas and by all accounts is doing well on its first day. For this Sanjay Leela Bhansali has to thank Sachin Tendulkar. On Thursday afternoon, the first day of the ongoing Tendulkar farewell series, the West Indies were duly bundled out and then Shikhar Dhawan and Murali Vijay rapidly rattled up a few runs. They fell in quick succession in the same over and Vijay's wicket brought upon a huge cheer and not the pin drop silence that greets the fall of an Indian wicket at the Wankhede stadium. For, the next man in was Sachin Ramesh Tendulkar, possibly playing his last ever innings for the country, calling time on a brilliant, record breaking quarter century career.
Sachin ended Thursday on a sedate unbeaten 38, studded with a few vintage Tendulkar cover drives and straight drives. Friday dawned and the fortunate 32,000 who had tickets or passes made their way to the Wankhede to watch the Little Master bat for one last time. Like on Thursday afternoon, productivity in India and amongst Indians worldwide was at an all time low on Friday morning. Sachin's every stroke, every leave, every block and every boundary was greeted with the raucousness associated with a World Cup win.
Meanwhile, Ram-Leela opened across the world in cinemas populated only by those unfortunate few who prefer cinema above cricket. The prognosis for the early shows was dire. Bhansali seemed set for a hat trick of flops. Then, the unthinkable happened. The Little Master, who had seemed set for a fairytale century in his 200th and last test match, played a rare false stroke and was out caught, 26 short of a 100. A nation was stunned into silence. A collective inhalation of breath was followed by an exhalation of disbelief that This is the end Beautiful friend, This is the end My only friend, the end Of our elaborate plans, the end Of everything that stands, the end No safety or surprise, the end.
For those caught in that post Sachin Jim Morrison moment, all Doors led to the next Whisky Bar. But for those getting on with the rest of their lives, Ram-Leela beckoned. So, Sanjay Leela Bhansali and team Ram-Leela, you owe a huge debt to Sachin Tendulkar for getting out when he did.