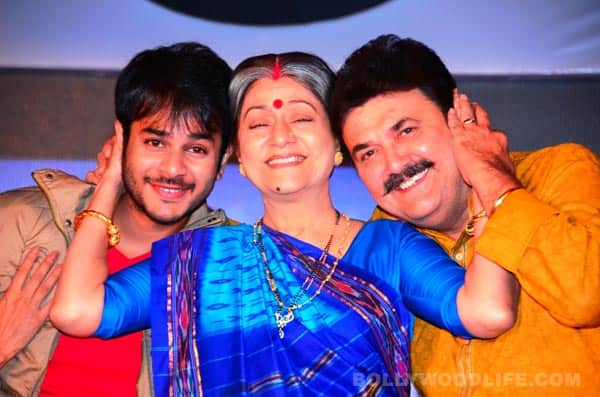 Guy next door Jay Soni plays the protagonist and Aruni Irani who steps into the shoes of the motherly Baa is as always flawless
Sanskaar – Dharohar Apno Ki is yet another show on Indian television that hammers home the idea that you need to respect your culture and tradition, no matter what, in virtually every scene. It is so in your face that after a while it seems and sounds more like a lecture on moral science and less of a show that's created to entertain. The one USP would be the way the characters around the protagonists are etched out – they are created so beautifully that each one of them has a distinct quality and is sure not to get overshadowed by the main leads.
For instance, Sonali Sachdev who plays Jay's mother is so soft-spoken and affectionate that you almost fall in love with this kindhearted soul. Rasik Dave as Jay's father on the show quite effortlessly takes over as the patriarch of the family, who's driven by the principle that your dreams should synchronise with your family's overall betterment. After all, that's what our sanskaar is all about. But the one person who's extremely uncomfortable with this idea is Rasik's younger brother who does an amazing job of playing a cynic with perpetual dissatisfaction on his face.
The show begins with Jay Soni telling his friend how eager he is to go home after finishing his textile engineering. While his wannabe buddy is surprised to discover that despite having a happening degree in hand and a range of opportunities in the land of milk and honey – USA, Jay still wants to go back to his family who are based in a small village called Keshavgadh in Gujarat. But Jay is desperate to go home 'coz he loves his family so much that he is willing to give the fat paychecks a royal ditch for maa ke haath ka khaana and dadi maa ka dulaar.
So Jay returns home, but unfortunately, the family faces a crisis. This chaste Gujarati household is ecstatic about fulfilling the dream of their late grandfather – inaugurating the textile mill that has been shut for years now. After the family is done with their pooja-paath and as they head towards the mill, to their horror they find that the factory has been set ablaze by one of their detractors. Now will Jay be able to stay with his family or will he have to go abroad, earn loads of moolah and give some shape to his grandfather's dream? We will get to see that in the next episode. 
Jay Soni sprinkles the Gujarati flavour to his acting quite effortlessly as he himself is one. Sanskaar has replaced Bigg Boss 6, but don't expect it to fill the gap of the spicy reality show. It is a family drama or should we say boring melodrama, which will surely be a visual delight for regular television watchers. But for people who are looking forward to something new, please give this a shameless miss.
Catch Sanskar-Dharohar Apno Ki on Colors : Aired Mon-Fri, 9.00 pm 
MORE TV REVIEWS:
NA BOLE TUM NA MAINE KUCH KAHA Season 2 : TV review
Tota Weds Maina and Hum Aapke Hain In-Laws : TV review
Rating:
out of 5
Reviewed by Deboshree Ghosh
* Poor
** Average
*** Good
**** Very good
***** Excellent