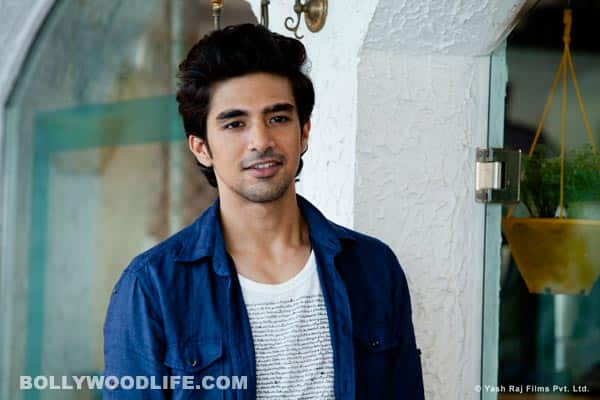 In an exclusive chat over coffee with BollywoodLife the young lead actor of Mere Dad Ki Maruti talks about his journey from the cricket grounds of Delhi to the oh-so-desirable world of celluloid in Mumbai, his equation with Ram Kapoor and why he believes that his forthcoming release is super-funny!
For those who have not watched his debut film Mujhse Fraaandship Karoge, a surprise hit in 2011, here's a brief introduction to Saqib Saleem. He's a cricketer-turned-model-turned-actor, who is now excited about his forthcoming film Mere Dad Ki Maruti with Ram Kapoor. The 24-year-old Saqib hails from a well-to-do Delhi family, but maintains that he's a middle class boy at the core who still hesitates to buy an expensive pair of jeans. His father owns a chain of restaurant in the capital city by the name Saleem's and his sister- and there's a Bollywood connect here- is none other than the Gangs Of Wasseypur actor Huma Qureshi. We met the young star at Mumbai's Yash Raj Studios to discuss Mere Dad Ki Maruti, releasing on March 15.
Cricket to celluloid
Before getting into movies Saqib appeared in a number of television commercial – he started out as model at a very young age – and played cricket at the state level, representing team Delhi and playing for Jammu and Kashmir) So what made him switch from cricket to cinema? "When I was playing cricket – and I played the game at a respectable level – I started getting offers to model. And I am not a conventionally good looking guy, but I kept getting assignments. So modelling started occupying my time more and more, but it bored me out of my skull. I was like, 'Isme zyada kuch challenging nahi hain, yaar!' What was even more challenging for me was to become a character. To become something that you are not in real life is more exciting. So acting was never an extension of what I was doing in the past. It was a conscious decision I made, and yet I would like to say that it just happened naturally. Nothing was planned," says Saqib.
Mere Dad Ki Maruti is super-funny!
After tasting success with his debut film Mujhse Fraandhip Karoge, which was a surprise hit in 2011, Saqib is more relaxed now for his second film which has Ram Kapoor as co-star and the solid backing of the Yash Raj Productions banner. "Who doesn't like to have a good laugh? Having Ram on board for a project backed by YRF is sone pe suhaga. And just like any other actor, I am a bit nervous ahead of the release of my second film. But every time I get tense about it, I just think about the nature of the film and it helps me ease my nervousness. Trust me, Mere Dad Ki Maruti is hilarious, super funny. You don't have to apply your brains to enjoy this one. Just go and watch this film and I am confident that you will have fun!," insists Saqib
I was scared of Ram Kapoor!
Ram Kapoor is arguably the biggest star of Indian television with many actors – young and seasoned – wanting to work with the rotund celebrity. On the one hand Saquib was excited about working with Ram when he heard about this project, but on the other, he was equally petrified of sharing screen space with the Bade Acche Lagte Hain superstar, given Ram's unbelievably popularity and his towering personality. "Yaar, meri halat bahot tight thi yaar. Jab Ram saamne aye pehli baar while shooting for this film, I was so scared of him. I sat with my knees close to each other and my hands folded, placed over my chest. I completely shut myself to him. And this huge guy that Ram is, he simply gave a fatka on my lap and said, 'Hey, bol – kya bolta hain? Lassi piyega? Kuch khayega? Kuch mangwaoon tere liye?' And that was more than enough to break the ice. Initially I thought maybe he is showing his best side to me just to calm my nerves. But later I realised that Ram does that every day to everyone. He's just the same everywhere. There are no pretensions, no act. He is just amazing. Our bonding on the sets was incredible and I am sure you will see the result of the camaraderie soon on the big screen," concludes Saqib.