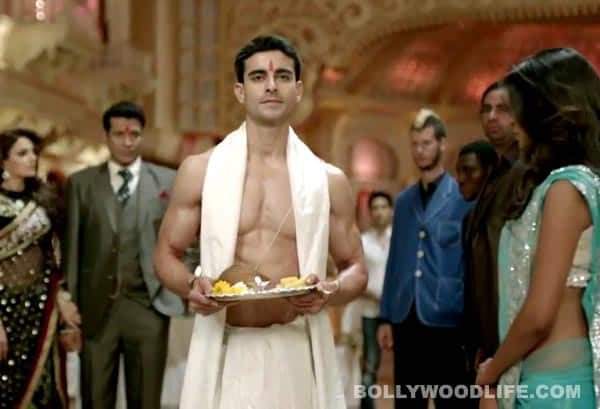 We ask only because the first episode was barely enough to draw a well-informed conclusion
Yesterday, Sanjay Leela Bhansali debuted on television. And to witness the miracle of how this larger-than-life filmmaker fits into our unflattering idiot boxes, women (me inclusive) dodged the rush hour traffic to make it to the finish line drawn in front of their TV sets. Many of us made it too.
But to see what? A measly 25-minute segment filled with cocktailed moments drawn from Devdas and Hum Dil De Chuke Sanam? And that too without Salman Khan, Aishwarya Rai Bachchan, Shahrukh Khan or Ajay Devgn! Time to boohoohoo? Not yet.
So we sat there heaving a sigh of relief for having made it, and in one piece. Slowly the sets of Saraswatichandra rolled out like an expensive brocade woven in a plush Kashmiri carpet on which the characters – who shone like they were polished for the longest while – strolled wearing the finest of dresses. Phew, it was a welcome respite from the gaudy colours that serials nowadays throw around with elan. And we duly handover a tiny brownie point to Mr Bhansali for that.
But apart from this larger-than-life look and feel, what else is this ooh-la-la show all about? Well, the person who's not seen the first episode is as informed as the person who has painstakingly seen it in this case. And that's 'coz the unabashedly long trailers displayed far more of the virginal first episode than they should have. So yeah, there was no love at first sight for Saraswatichandra because, heck, it was by God the umpteenth sight.
Saraswatichandra (Gautam Rode), the pious hunk, is getting onto his aristocratic father's nerves. And according to Mr Dad, marrying off his dhoti-clad son is the only way to cure him of the good-for-nothing piousness. So, in comes the girl (Jennifer Winget), who is an Aishwarya Rai Bachchan caricature from Hum Dil De Chuke Sanam, as the perfect match. While the guy's side follows the Devdas kinda set-up, the girl's family gets inspirational dope from Hum Dil…. Background music takes you back to Devdas. Sigh.
Even so, we don't really hate the show. Not yet. And primarily because it has a nice and comforting Bhansali-feel to it. The characters too performed well. And we developed a special liking for Monica Bedi – the undisputed vamp – in this one.
Now the only question that remains to be answered is – will the grandeur, the performances and Sanjay Leela Bhansali's tag help us overlook the perfumed whiff of a clichéd script that's just around the corner? We wait and watch!
Rating:
out of 5
Reviewed by Latika Payak
* Poor
** Average
*** Good
**** Very good
***** Excellent