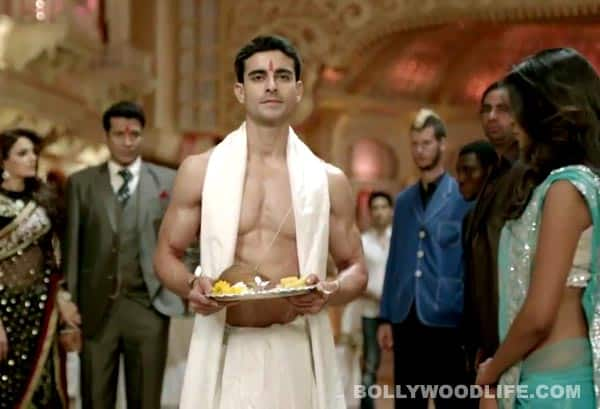 Sanjay Leela Bhansali's new soap opera got its Internet premiere today and it does look interesting…in parts! Will it make an impact when it goes on air February 25?
It all happened this afternoon. For a while we have been seeing teasers of Sanjay Leela Bhansali's new Hindi soap opera Saraswatichandra on TV, showing off a cast of very beautiful people standing around while one bare-torsoed studly chap wandered about being spiritual. And a short while earlier, we found out a little more. In the Net presentation, the stage gets set for the story to unfold. Based on the Gujarati novel by Govardhanram Tripathi, the show stars Gautam Rode as the hero, Monica Bedi as his stepmother Kusum and Jennifer Winget Grover as Kumud Sundari. There is also a whole slew of open-mouthed extras who stand around being snooty, while the stern father does his thing with his wayward son.
It starts with a party in a luxe mansion in the UAE, where the father growls angrily about his missing son. The wife, played by a polished Monica Bedi, seems to be the peacemaker…or is she? Will she, in good soap opera tradition, turn unexpectedly to become the baddie, underhandedly inciting trouble? We look forward to that! Meanwhile, it is the father's birthday, a grand party is in progress and the son and heir is missing. Cut to a pond. A beautifully muscled body, its torso bare, stands hip deep in the water, obviously doing some kind of ritual. Close up to the clean-cut face of our hero: Gautam Rode, more familiar to TV watchers these days as 'Bade' on Nach Baliye 5.
And then the clashes start. Our hero insists to his waiting friend that is name is not 'Chandra' but 'Saraswatichandra', honouring his mother; and then you know that it is going to be all about dynamics between Sonny Boy and his attachment to dear departed Mum and her desi traditions and his battle with still-present Dad with Stepmum playing a devil's – though not advocating anything but her own interests, of course! – role. But the gorgeous sets, the beautiful people and the grand scale could be interesting. We wait to find out when the show goes on air on Star Plus on February 25.
[jwplayer mediaid="191081″]