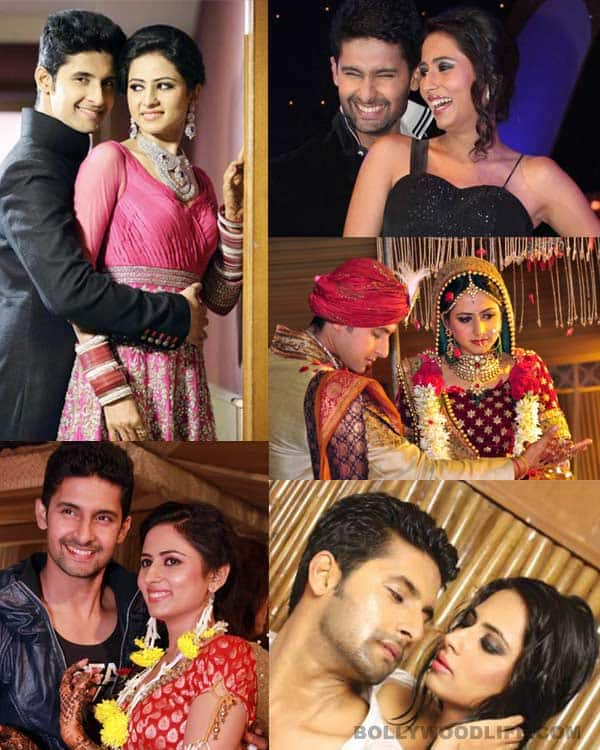 EXCLUSIVE: She is not used to being addressed as Mrs Dubey yet, but the actor loves being married
Sargun Mehta Dubey talks about how love happened between her and Ravi Dubey, her first impression of Ravi, who said I love you first, their fights, make ups and plans for Valentine's Day this year…
Are you getting used to being addressed as Mrs Dubey now?
No one really calls me Mrs Ravi Dubey; I don't know why. You are the first one to do that. I still use my maiden name, even my contracts and everything.
How exactly did the love story happen?
We first met on the sets of 12/24 Karol Bagh, became friends and then everything just happened.
What was your first impression about Ravi?
I thought he was really cute actually. I had seen a picture of him on the laptop, because the makers had told me this is the new guy coming opposite me. He was to play this mentally retarded guy; they showed me photographs of the look test; and my reaction was 'chee'. So I was expecting this really odd looking guy on the sets. We were to shoot the promo; Ravi knocked on my vanity door dressed in this red jacket looking cool and cute. My first reaction was – who is this cute guy? That's when I realised he was to play my husband.
So who said the three magical words first?
Nobody did! In fact, we came to Bombay, realised that we had become more than just friends. And then one day we suddenly felt it. He said don't you think we are like dating. And I said yeah, I guess we are dating – so we just began dating.
So whose idea was it to get married this year?
Uhhh… the media. The media has started printing things, so we warned our parents, before they get to know this from someone else we told them. They knew Ravi and had met him before. By now I had known for quite a long time. Then Nach Balliye 5 made it so official by giving us that ring. Then the parents were like no-no you have to do it and get hitched so we did it.
So has life changed post the wedding?
No, not really! We get up, go to work, come back late and meet each other. The only thing is now we don't have to decide where to meet; we know we can meet at home.
Ravi as a boyfriend or husband – which is better?
We are still more like friends in all the stages of our relationship. We do not take too much space in each other's life. We like giving each other space, if we want to go our alone respectively we go. We can talk about a hot girl/ guy without having to think twice. So it's more like friends. So I don't think I prefer him as anything, I just prefer him in my life.
So when it comes to household chores, how much does Ravi do?
We don't do any work at home. We have a maid who does everything for us. We both don't know how to cook or clean the house. There was a time my maid had taken a month off and Ravi came home to see me clean the house. He said you are not doing anything; I'll hire someone to do the work. For a month and half we didn't cook at home and would eat out. Maybe he knew I couldn't cook or that my cooking was so bad nobody could eat it. When I did not listen to him, he said fine then I'll do it with you. So we cleaned the house together. He is pretty sweet that ways.
The most romantic thing Ravi has done for you?
He is not a romantic guy at all. For him to buy a card is also big deal. He once went to an Archies showroom and was irritated looking at all the cards. So he told them to give the biggest heart card, paid for it and gave it to me without even writing anything on it. It was our first Valentine's Day. He had tried to make it special. On the top of the tank of his building he had placed a bed sheet, candles, champagne, glasses, flowers and cake. I took the card and asked him if I could recycle it for my next boyfriend since he had not written anything in it.
What is the most romantic thing you have done for him?
I am the most romantic person among the two of us. I am that kinda romantic girl who believes these things should be done by the guy.
What's the best gift you've given him?
He doesn't have a sense of smell so I pick perfumes for him.
What has been the most memorable gift he's ever given you?
I remember it was my birthday and he came in saying that I will get my gift in two days and how he couldn't carry it. I was super excited. The next day I got a delivery for a washing machine and a TV. It was truly bizarre.
Describe your worst fights?
I am a die-hard Shahrukh Khan fan and he is a huge Amitabh Bachchan fan. If he talks anything against him, I start hating the person, I take offense. So we have fights over Amitabh and Shahrukh.
How does Ravi make up after a fight?
He has to say sorry.
So what's the big plan for Valentine's Day?
Ravi will be in Dubai for an event and I will be shooting for Boogie Woogie. We are still shooting and have no plans at all.