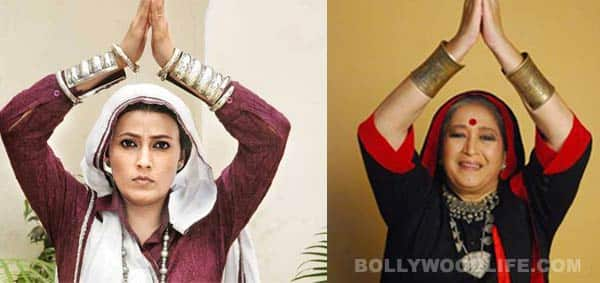 The veteran actor, Amita will enter the show this week as Jwala Devi
Sasural Simar Ka is bringing a twist in their story line with the entry of a new antagonist, Amita Khopkar. The Marathi theatre artist has been roped in to a play the powerful character of Jwala Devi.
Her character is charismatic, powerful, blunt and hails from a village. Jwali Devi is considered as the most dangerous woman in her region, who petrifies people with her mere looks. The cops, rich landlords and even politicians fear her. Now doesn't all that seem a little too familiar? Remember, Na Aana Is Des Laado's Ammaji? Meghna Malik played the character of Ammaji, who was the head of her village. People were terrified of her and did everything she asked without a second thought. She controlled politicians, landlords and had her own set of goons to do her dirty work.
What we can't figure out is why the creatives of Sasural Simar Ka are copying characters from other shows, especially considering Na Aana Is Des Laado was aired on the same channel. Guess Rashmi Sharma Telefilms are now out of ideas or may be their writers are desperately in need of creative inputs or just too lethargic to think of some innovation. So, we have a Jwala Devi who looks and feels similar to Ammaji. Let's hope that the similarity ends at this.
Watch this space for more news on Saural Simar Ka.