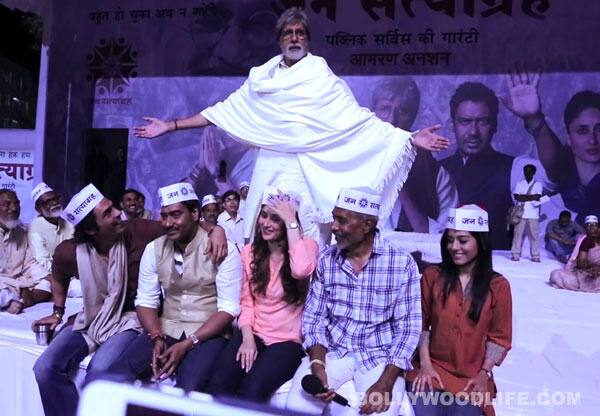 Amitabh Bachchan, Ajya Devgn, Kareena Kapoor and Arjun Rampal come together on the same platform to spur a movement and bring  about a positive change in this inspiring song
Shot in six hours, Raghupati Raghav Rajaram is a motivational and inspiring song from Prakash Jha's forthcoming movie Satyagraha. The film stars biggies from B-town including Amitabh Bachchan, Arjun Rampal, Ajay Devgn and Kareena Kapoor. Capturing these stalwarts in one song was a huge task for choreographer Jayesh Pradhan and for director Prakash Jha, but the two managed to do a fantastic job. "The moment I heard this song, I had goose bumps," says Amrita Rao.
Penned by Prasoon Joshi, this number is a refreshing take on Mahatma Gandhi's inspiring song. Even though the music and the lyrics are a bit different, it the innocent essence of the song has been maintained. "It was an anthem of sorts and it will become an anthem again," maintains Kareena Kapoor about this soul moving number. True to the story of Satyagraha, this song will encapsulate the mood of the film.
Watch the cast and the crew of Satyagraha talk about this incredibly beautiful number in this video as we give you a sneak- peek into what went into making this deeply stirring and emotionally moving song. Take a look!