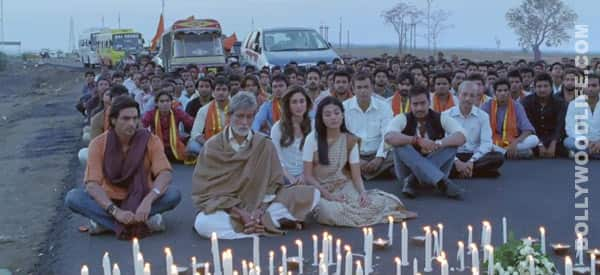 Prakash Jha's political thriller – in which AB's role is inspired by social activist Anna Hazare – looks high on drama
The official teaser of Satyagraha is out, and Prakash Jha treats the film in his signature style – Raajneeti, Apaharan  – serious concepts spiced up to suit the sensibilities of the masses. Kareena Kapoor goes all passionate as a political journalist, reporting with great vigour despite a ballistic crowd thronging in the background. Ajay Devgn, Amitabh Bachchan, Arjun Rampal and Amrita Rao continue protesting despite the physical attacks and the volley of water cannons. The film is definitely high on spirits, but a bit high on drama too.
We have seen Amitabh fighting against injustice in Aarakshan, and his character has the same streak in this film as well – Big B is the motivator, the  activist who has the will to lead a crowd despite the unpleasant circumstances. Inspiring but a li'l over the top…Rest, you decide!
[jwplayer mediaid="229925″]