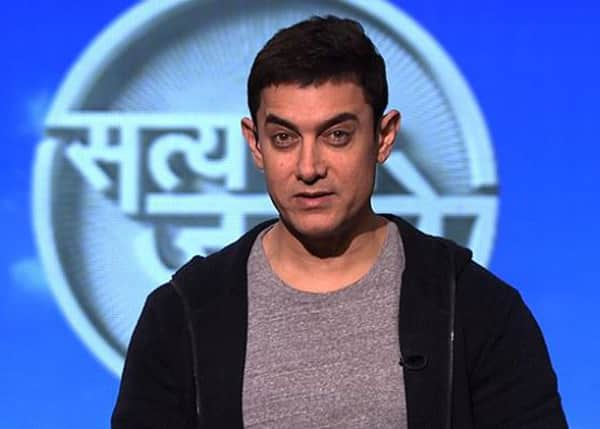 Aamir 'social crusader' Khan highlighted some of the most important facts in the season finale episode of Satyamev Jayate 2
Satyamev Jayate 2 went on air earlier this month and in the past 4 episodes, Aamir Khan raised important issues such as the spurt in the number of atrocities against women, Indian police system, importance of waste management and one of the biggest issues of India – corruption. In the season finale episode, which was aired today (March 30), Aamir put forth the country's current political scenario, which will help every Indian to cast their vote for the right candidate in the upcoming Lok Sabha elections.
With the able help of statistics, data and thorough research Khan showed us how out of 543 Lok Sabha MPs (Members of Parliament) and 4032 MLAs (Members of Legislative Assembly), 30% (162 in number) and 31% (1264 in number) have criminal cases pending against them respectively. And they treat criminal records and unlawful cases as their achievements. On the other hand, regardless of their criminal records, political parties show no qualms in accepting their nomination papers.
Aamir invited Bitiya's father, who spoke about Ashok Veer Vikram Singhalso known as Bhaiya Raja (former MLA from Madhya Pradesh) immoral behaviour. Bitiya, as the show shows, was assaulted and murdered by Raja Bhaiya.
Followers of Ajit Sarkar, member of Bihar Legislative Assembly for Purnea constituency, also remembered him for his benevolence. Ajit was gunned down in Purnia. In 1999, Pappu Yadav was arrested for his murder, who released from jail last year.
The prominent highlight of the show was the presence of Shahabuddin Yaqoob Quraishi, India's former Chief Election Commissioner. Quraishi revealed that the political parties use funeral vans to hide money meant for voters. He also said that phony weddings are planned sans the groom/bride to arrange free meal for voters.
It was also revealed how the politicos cash in on their negative image to create fear and maintain their 'market value'. But it's not only the politicians, who are to be blamed. Voters demand cash, mobile phone, TV set, refrigerator to cast their votes for particular candidates. And it's not only people from low income groups sell their votes. Middle income groups too show no qualms. As they rightly say in Hindi, "taali ek haath se nahi bajti."
The fifth and final episode of Satyamev Jayate 2 was overwhemigly disturbing and at the same time it was a reality check for all of us. It made us ponder over who do we cast our precious vote for in the forthcoming elections. As Aamir rightly said, "Na hum bikau hain, aur na humara vote." So now we know, what we have to do before we get to the polling booths in the next month as we choose our next leader.