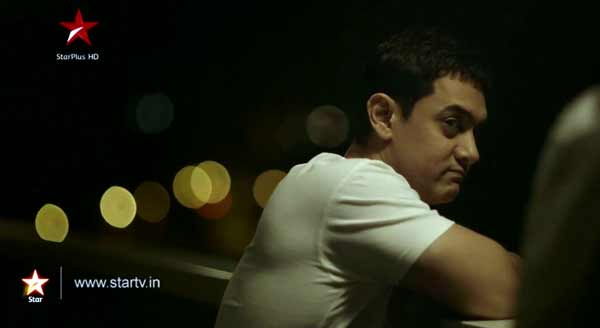 The Dhoom:3 star is back with his new season of television talk show
Aamir Khan returns to the tube with the second season of his show Satyameva Jayate and the latest promo like the earlier series has a touch of reality. This Khan certainly knows to strike the right chord, he does not just chose his audience, but also questions them. The first promo shows AK standing on his balcony with a friend, looking at the aam aadmi on the street and identifies his show's audience. He spots a car that speeds past a red signal and declares him as a non-watcher of Satyameva Jayate. He then finds solace when he finds few people following traffic rules. A happy Aamir then walks back home to enjoy dinner.
We like the thinking promos, we certainly like the tone this Khan has set for his show. He is aware of the 'niche' aspect of his show, at the same time this Perfectionist Khan is ready to question those who do not follow his show. The P.K. actor subtly hints at the condition in metros and at the same time tries to imbibe a sense of responsibility in the promo itself. And while we liked the issues AK dealt with in the first season, we are curious to find out what Aamir has in store for us this time around, aren't you BollywoodLifers?
Watch the promo of Satyameva Jayate 2!
[flv image="http://st1.bollywoodlife.com/wp-content/uploads/2014/01/Satyamev-Jayate-2.jpg"]http://st1.bollywoodlife.com/wp-content/uploads/2014/01/Satyamev-Jayate-Traffic-Promo.flv[/flv]