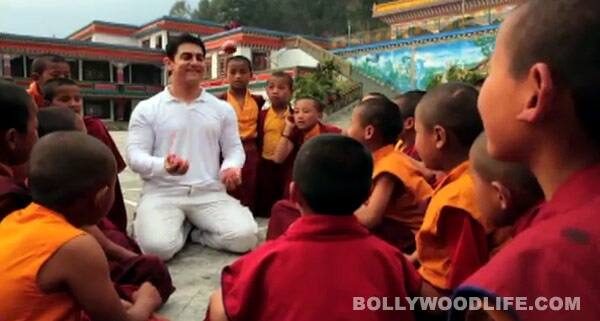 Know all about Aamir Khan's  first TV show Satyamev Jayate. Browse more for music video, promos, episode highlights, trivia and gossip
Aamir Khan is as excited and nervous about his TV show, Satyamev Jayate, as his fans. The actor says it is his biggest project till date, even bigger than any of his films! "This TV show is the closest to my heart," said Aamir while unveiling the music video of the show. "People did not know that I had been working on it for the past two years," he added, saying that he had put his heart and soul into it.
Aamir also said that he is a very emotional person and cries very easily, and that shooting for Saytamev Jayate had him in tears quite a few times. He, however, denied that he wanted to create a revolution through the show. His aim, he said, was to unite people through it. "Main chahta hoon ke log isse jude," he explained. As a run up to the show's premiere on May 6, we present you all that you need to know about the show….
– Satyamev Jayate will air on May 6 at 11am on Star Plus and DD1 simultaneously Read more
– It is Aamir Khan's first TV show as a host
– Satyamev Jayate is a chat show
– The show's first episode will tackle the issue of female infanticide
– It is directed by filmmaker Satyajeet Bhatkal
– Aamir Khan has been working on the show for the past two years
– The first promos of Satyamev Jayate were shot in Aamir's house in Bandra, Mumbai. His wife, director Kiran Rao wasn't amused Watch promos
– Aamir and Kiran's baby son Azad Rao Khan appears in one of the promos, but that clip will not be used, says Aamir
– Aamir Khan's pet cat also features in one of the promos
– Imran Khan will make an appearance on the show as a special guest
– Satyamev Jayate as a title cannot have a copyright by anyone, according to the government, as it is part of the national emblem. But Aamir was okay with the fact
– Aamir travelled the length and breadth of the country for the show
– He wants it to be as popular as the Ramayan and Mahabharat shows, and so chose the broadcast time of Sunday morning 11am Read more
– Satyamev Jayate will have 13 episodes
– Each episode will run for an hour and a half
– The music of Satyamev Jayate has been composed by Delhi Belly music director, Ram Sampath
– Ram has also sung the title song, along with Keerthi Sagathia
– Aamir wanted the title song to be like a romantic number, "a love song for the country", as he said Read more and watch video
– Each episode will have a different song
– Jai ho singer Sukhwinder Singh has also been roped in for a number Read more
– Ad man and lyricist Prasoon Joshi has penned the songs along with Swanand Kirkire and a few others
– The title song music video has been shot by ad filmmaker Ram Madhvani
– The agency handling the promotions is O&M (Ogilvy & Mather)
– Star Plus is spending Rs 6.25 crore on the promos of Satyamev Jayate Read more
–  There was a Fire on the sets of Satyamev Jayate, so Aamir postponed the release of his film Talaash in order to reshoot his show Read more
– Aamir normally takes an off in his birthday on March 14. But this year, he was working on Satyamev Jayate
– Satyamev Jayate's studio portions have been shot at Yash Raj Studios in Mumbai
– When the first episode was aired, about 1,00,000 people dialled in to speak to Aamir Khan to show support for the issue of female foeticide that he was discussing.
Keep watching this space for updates.