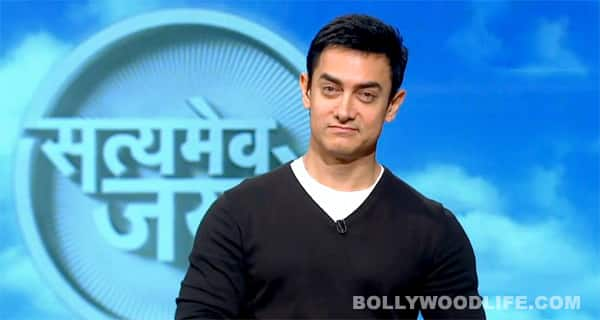 In the final episode of his reality show, the actor invited the real heroes of society and highlighted their incredible work
From female foeticide to child sexual abuse, domestic violence to dowry, medical malpractices to untouchability, organic food to water crisis, actor Aamir Khan's Satyamev Jayate challenged your perception of common issues plaguing our society and our nation at large.
Twelve episodes with twelve serious issues addressed in Satyamev Jayate have managed to touch an emotional chord within us and change many lives for the better. One can't deny the fact that the show has influenced and contributed to several policy level initiatives and laws. So we were curious to know the topic of discussion on the concluding 13th episode of Aamir's unconventional reality show.
In the final episode Aamir highlighted the work of real heroes in our society who with their firm resolve and conviction strive hard to put principles into action. For a country which has been independent for 65 years, it is a matter of shame that we still face many problems that stop us from being a progressive state. Our constitution endorses justice, liberty, equality and fraternity for one and all. Will we ever be able to wake up to a truly new and progressive India? asked Khan.
Aamir then brought into focus the extraordinary work being done by real heroes. And how these people continue to inspire others to lead a better life. The Sarvodaya Trust, for instance, draw their inspiration from the constitution that states India is a secular country. Parimal, Tripti, Arvind and Janhavi wholeheartedly adopted the principle of secularism and gave shelter to orphaned children of all communities teaching every child to co-exist in peace and harmony.
We are then introduced to Sunitha Krishnan's fight against the prostitution mafia and social prejudices. Some so called well-respected individuals in our society who patronize and encourage sex trade don't want to give the girls a chance to reclaim their lives. The girls rescued from sex trade are facing a unique irony in life.
Education to all is a basic need of a healthy state. Sadly, as Aamir highlighted, nearly 14 crore children in India can't afford to go to school. The actor then introduced to the audience the phenomenal work done by Babar Ali, probably the youngest Principal in India. Babar,only 19, runs  a school to spread the light of education. To practice what he preaches, this teacher juggles between college and teaching his students.
Aamir then discussed the monster of corruption and how it is affecting the well being of our country. It is saddening to know that those who try to walk on the path honesty and integrity are silenced forever.The case in point is Satyendra Dubey. In 2003, Dubey had to pay with his life for trying to blow the lid off scams and corruption in road development projects. Are we worthy of Dubey's martyrdom? Aamir questioned.
In the end Aamir made a valid point. The actor feels that it is pertinent to ask ourselves an important question. Aamir said that should not limit ourselves by asking what the state, the government is doing for us? Instead, we should now re-frame the question and ask what are we doing , in our capacity, to bring about the change we want to see in our society. "Will we try our level best to follow the path laid down by the Constitution of our country?" he concluded.
Also read: What would you like to see in 'Satyamev Jayate' season 2?