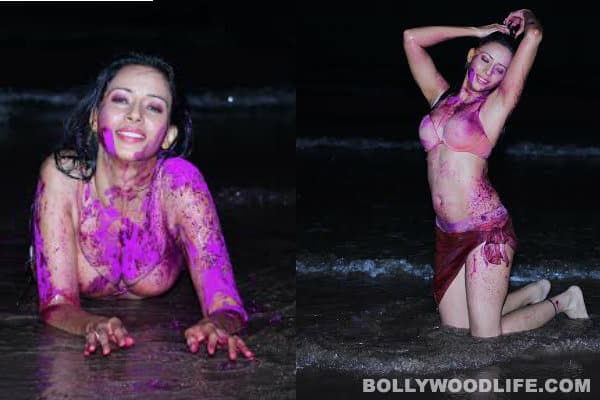 The controversially colourful damsel goes ahem ahem…wet to ring in the festival of colour
Rozlyn Khan has run out of ideas that can make her stay in the news. Here's the babe following what Poonam Pandey has been doing to fetch the much needed eyeballs. Known as Savita bhabhi, Rozlyn had disappeared after her look-alike sex racket case was busted. But now she is back with a bang for her fans.
The desperate for attention damsel loves to play Holi, but she think that the festival should be played in a healthy way. This year Rozlyn is celebrating eco friendly Holi with dry colors and she is enjoying being smeared with colours in the sea water. " I love to play Holi because I love colors, But I am against colors with chemicals and wastage of water, So I am playing holi with dry color which is made by corn powder and I use non drinking. This kind of Holi celebration save water and keeps the city clean. So enjoy this Holi with me" said Rozlyn.
We wonder if marine creatures are feeling the heat now with Rozlyn unleashing her notoriously naughty antics in the sea!