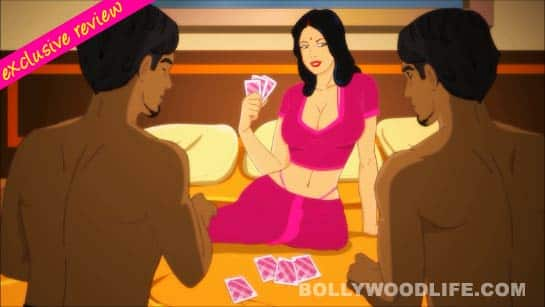 Cineswami exclusively reviews Savita Bhabhi The Movie for BollywoodLife
As part of BollywoodLife's second anniversary celebrations, what better gift to offer you, dear readers, than the first ever review of another film celebrating the centenary of Indian cinema – Savita Bhabhi The Movie, India's first animated porn film. Yes, we know what you're thinking, it's dirty work, but someone has to do it.
The film is set in 2070 and opens with vistas of a cityscape where there are no motorways, only airways as all vehicles fly. Because oil has been found on the moon, vehicles still run on petrol. We are informed that we are in Bombay (a global corporation owns naming rights for the city and they decided to rename it from Mumbai). Though everything seems hunky dory on the surface, it's not, in reality, because of the draconian measures under the Censorship Act where websites are censored.
What really hurts our hero Suraj is that Technology Minister Rakesh Mehta has banned all porn sites. One day, while trawling for porn, Suraj comes across early 2000s porn comics featuring Savita Bhabhi and he is immediately enamoured. He rushes to inform his geeky friend Hari about her. Hari has built a machine that can transport people to any world and this is duly deployed to take the duo to Savita's world.
Suraj and Hari land on Savita's bed in the middle of a game of strip poker that ends with predictable consequences. At the climax, the transport machine malfunctions and the duo, along with the devoid of clothing Savita, return to 2070. The parts required to repair the machine have been seized by Mehta's ministry and while Hari figures out a plan, Suraj equips Savita with his sister's clothes, only for her to shed it soon enough while they make the beast with two backs.
Hari's plan to break into the ministry's repository requires Mehta's fingerprints and retina scan and of course the only way to obtain this is to send Savita to him in the guise of a reporter, which she duly does, dressed in a miniskirt, stockings and a shirt that reveals more than it conceals. It is also decided if Suraj and Hari could get a video of Savita making jiggy with Mehta, it could be used to end the Minister's career. Savita obliges, gets the prints, scan and video and is sent back to her comic book world.
The film is executive produced by Deshmukh, the creator of the original comics. The animation by Sugar Daddy Entertainment is not Hollywood level but is bright, clear and sparkly. Thankfully, their vision of 2070 Bombay is more Blade Runner and The Fifth Element rather than Love Story 2050, that incomparable vehicle for Harman Baweja. Voice direction by Nitin G is top notch with Savita's voice being suitably whiny and sexy, Suraj's aptly heroic and Hari's correctly despo and geeky with the standout being Mehta's sleazeball Minister. The entire voice cast performs well on the moans and grunts score.
Empire Studio UK's dialogue is as filthy and explicit as you can imagine. Nitin Kumar Gupta's music is upbeat with the songs being catchy. And the lyrics make Yo Yo Honey Singh's songs sound like bhajans. What elevates Savita Bhabhi The Movie above a mere animated porn flick is its goofy sense of humour. The film doesn't take itself very seriously and yet, at the same time, manages to make a strong point about the censorship age we live in.
For those of you palm chafers waiting for descriptions of the money shots, let it suffice to say that there is a lot of it and it is hardcore. USD$30 for just 30 minutes of film may sound inordinately high, but hey, it buys you a whole year of self-abuse, if that's the kind of thing that raises your periscope.
Happy Hentai.
WATCH VIDEO: Savita Bhabhi movie trailer: India's hottest porntoon character is all set to seduce you!
Rating:
out of 5
Reviewed by Cineswami
* Poor
** Average
*** Good
**** Very good
***** Excellent