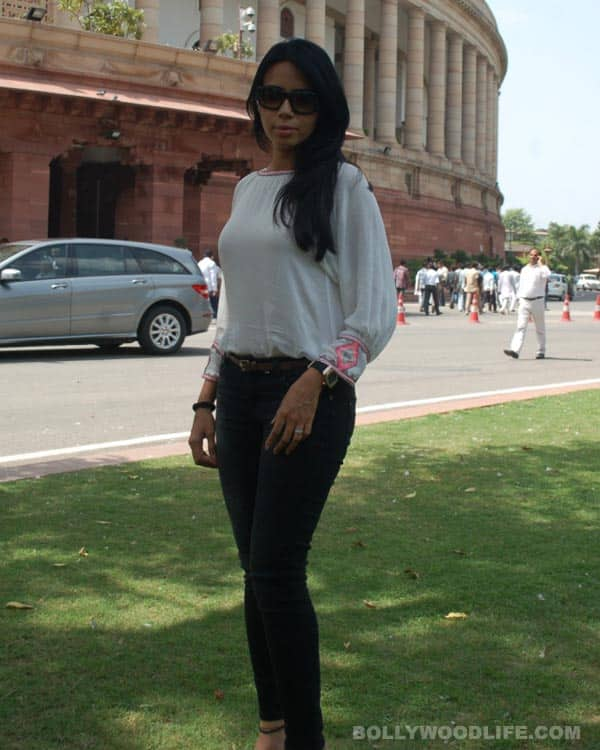 Rozlyn Khan aka Savita Bhabhi, never leaves an opportunity to surprise her fans. The sex siren recently visited the Parliament and Rashtrapati Bhavan wearing a see-through shirt!
Rozlyn Khan is touted to play the famous porntoon character Savita Bhabhi in Ram Gopal Varma's fantasy film. Rozlyn Khan first managed to create a stir by plastering an IPL tattoo on her bare bottom. And now she is leaving no stone unturned to get the media glare and how! Recently, the desperate damsel visited the Parliament and Rashtrapati Bhavan wearing a transparent white shirt.
Rozlyn turned quit a few heads in Parliament but also stole the show from our netas who were visibly excited at the sight of the sex siren. Some of our netas even wondered what Rozlyn was doing at the Parliament. Some curious souls even questioned if the bombshell was keen to join the Congress party. "Let's see what will happen and no one invited me, I just came randomly, just to meet parliamentarians. I want to see how leaders are working" said Rozlyn Khan.
When asked about the recent rape case that shook the entire nation Rozlyn blamed the sorry occurrence on our legal system. "The biggest problem in India is safety of a woman. There is no fear of law and system among goons. Rapists should be punished in such a manner that it becomes a lesson for others," said Rozlyn.