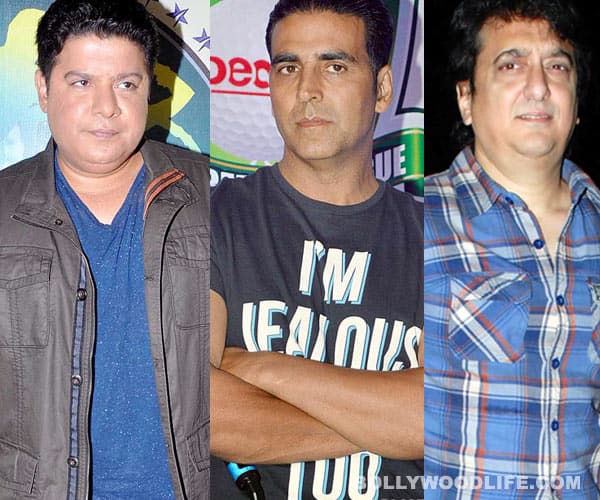 Producer Sajid Nadiadwala has barred the Himmatwala director from the third part of his superhit franchise Housefull after he badmouthed his good friend Akshay Kumar. Find out what led to fracas between the two Sajids and Akki
The story goes something like this: Sajid Khan had a three-film deal with Sajid Nadiadwala – Heyy Babyy, Housefull and Housefull 2. After the success of the Housefull series, Nadiadwala was looking forward to continuing his successful association with Sajid Khan by asking him to direct the third part as well. But we hear that when Nadiadwala asked Sajid to take on the mantle, Khan politely refused the offer. His logic was simple – the Himmatwala director wanted more (read: money) from Nadiadwala but, as our sources tell us, since the two are good friends, Sajid didn't quote a price.
We know that around the same time, Vashu Bhagnani reportedly paid Sajid Rs 8 crore for Himmatwala, which upped Sajid's confidence and his justification for asking for more from film producers. So Sajid categorically told Nadiadwala that he didn't want to direct Housefull 3. Little did he expect that Nadiadwala wouldn't turn to him and agree to pay him his remuneration. Oops…!
Since Sajid had washed his hands of Housefull 3, he approached buddy Akshay Kumar to play the lead role in Himmatwala and, you know what! Akki initially agreed to do it, but Nadiadwala – who's a very close friend of the actor's – advised him to do Housefull 3 instead. That, wethinks, saved Kumar from listing another stupendous flop on his filmi resume. Since Sajid Khan had no better replacement, he knocked on Ajay Devgn's door and the star-actor stepped in, only to wish he hadn't, we are sure! After all Himmatwala did nothing for his record at the BO, no? Our buddy the birdie chirped that Sajid Khan is livid with Akshay for backing out at the last minute from Himmatwala and so he started badmouthing the Once Upon A Time In Mumbaai Again actor. And look where that got him!
Wethinks its high time Sajid Khan stopped acting pricey, or else he'll certainly ink his name in the bad books of his B-town colleagues. Hmm…is all that khunnas the aftereffect of Himmatwala, Sajid?