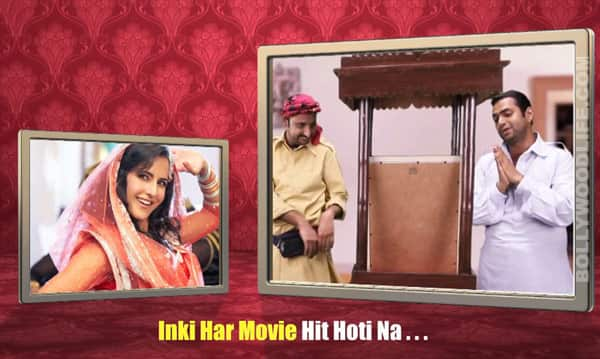 UTV Spotboy's latest marketing gimmick is grabbing eyeballs for their non starry movie Filmistaan
Katrina Kaif has won various tags like 'sexy', 'hot' and many more. The leggy lass' good looks have got her noticed right from start of her filmi career. And makers of Filmistaan are taking it to a whole new level. The Dhoom:3 babe has no special appearance in Nitin Kakkar's award winning film. However, Kat's very much a part of this film's marketing. So what is this promotional activity all about? Read on to find out…
The creative team of the film have taken Katrina's starry devotion into account and made a special aarti video, which shows the lead actors of the film performing a prayer for their favourite goddess—Katrina Kaif! Most Indians would recall the devotional song Om Jai Jagdish. The makers have taken that song and changed the lyrics to make it Jai Jai Katrina. Sharib Hashmi and Inaamulhaq, the lead actors of the film, are seen as die hard fans of Ms Kaif in this film and as a tribute to her, they compose and perform a bhajan/aarti in her honour. It must be flattering for the Bang Bang actor, but apparently the busy babe doesn't even have time to listen to this special aarti?
According to sources from UTV Spotboy, Ranbir Kapoor's girlfriend was too shy to even listen to a song praising her, and therefore, when approached, she humbly turned down the request. "She was approached but she couldn't consider the request as she was too shy about it. Moreover, she couldn't have said yes as she's extremely busy right now. She is currently in the UAE where she is shooting for Siddharth Anand's Bang Bang" says source close to Katrina while speaking to a leading daily. So were the makers not wary of any Hindu activist groups protesting about defaming a devotional song?
The makers say that the song, Jai Jai Katrina, has been shot purely for promotional purposes are is not meant to harm sentiments of any community. Also, it will just be aired on TV ahead of the film's release and will not be a part of the film. " The idea is the brainchild of the creative team of UTV Spotboy. They are the producers of my film and know best how to market it. In India as well as Pakistan, Hindi cinema rules our lives and that is what the film's story has tried to show. The idea of the video is to create audience curiosity around those lines," Kakkar had informed while speaking to a leading daily.
The 1- minute, 20- second aarti is laden with funny lyrics which will leave you ROFL. The makers plan to release many such promotional videos before their film's release on June 6. So why not ask Katrina to play a small cameo in the film? Kakkar reverts talking to a leading daily, "Katrina does not have any role to play in my film. It is just that the film's protagonist is an aam aadmi who is glamour struck about Indian movies and decides to pay a tribute to her favourite star."
Filmistaan has been screened at various film festivals across the globe and has won quite a few awards. Now only time will tell as to whether such cool marketing strategies work in favour of the film or draw some controversies towards it. For now, go ahead BollywoodLifers, watch the video and start chanting the Katrina aarti!