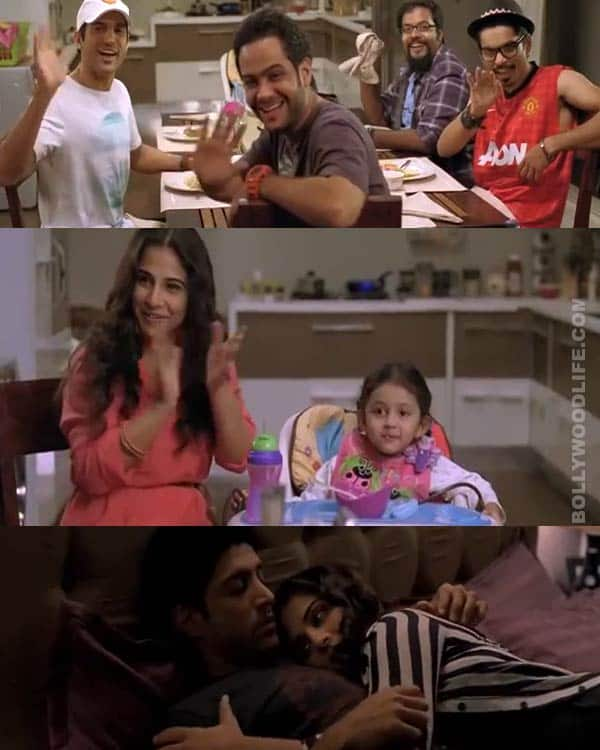 Check out a couple of deleted scenes from the film, which will show you some of the nok jhok that married couples go through
The makers of Shaadi Ke Side Effects have released a couple of deleted scenes from the film and we can't stop wondering as to why these scenes were deleted. Our best guess is that they were deleted so as to reduce the length of the film, but trust us these scenes were equally poignant and resounding as the film's basic theme about the problems faced by married couples.
The first clip called Side Effects of Being A Sports Fan describes how any guy finds it difficult to sit and watch a sports match of his liking with his friends. It shows Farhan trying to start drinking along with his friends while watching a football match, when Vidya interrupts and asks them all to join for dinner as the child would not have food unless everyone else was around. Everyone complies with Vidya's emotional blackmailing but later on regret it as the full dinner episode turns out to be a pain in the a*s.
The second clip called Side Effects of Working Late describes how any guy keeps making bahanas to continue to enjoy his bachelorhood and stay away from his snooty and irritating wife. It shows Farhan and Vidya lying on bed and having a normal conversation. They are seen talking about why Farhan is spending less time at home and is staying longer at the recording studios. Farhan's retorts to his wife's queries are superb and they show how frustrated he is with his life post having a baby.
We absolutely loved the two clips and are trying to find out more of such deleted scenes where you would be able to see some more of the nok jhok between married couples. So go ahead BollywoodLifers, watch the videos and let us know your thoughts.
[flv]http://st1.bollywoodlife.com/wp-content/uploads/2014/03/2-merged-deleted-scene-from-shaadi-ke-side-effects.flv[/flv]