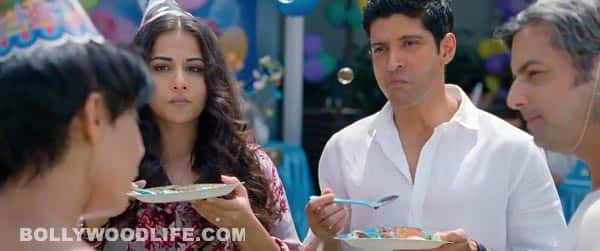 Watch the quirky dialogue promos from Shaadi Ke Side Effects, which will release this Friday
Farhan Akhtar and Vidya Balan have teamed up for the first time for Saket Chaudhary's romantic comedy Shaadi Ke Side Effects, which will hit the theatres tomorrow (February 28). But before you go to see this unusual jodi on the 70mm screen, we bring you some dialogue promos from the film, which are bound to make you laugh very hard.
The first promo has Farhan going on a sorry saying spree. But that usually happens after every marriage, right? Husband makes mistakes, he says sorry. Wife makes mistakes, 'he' says sorry. We feel really sorry for Farhan here. Too much of sorry happening here, we guess.
Then the second promo is titled as green potty. The name itself can make anyone go yuck, but when you watch the promo, we are sure you will start rolling on the floor laughing. And don't miss out on Vidya's expressions in this one.
These two promos are enough to build your excitement levels, but if you are still not convinced, then there are two other promo videos, which will surely make you all eager for SKSE. Watch these videos here and tell us which one is your favourite.
[flv]http://st1.bollywoodlife.com/wp-content/uploads/2014/02/new-dialogue-promo-4-merged.flv[/flv]