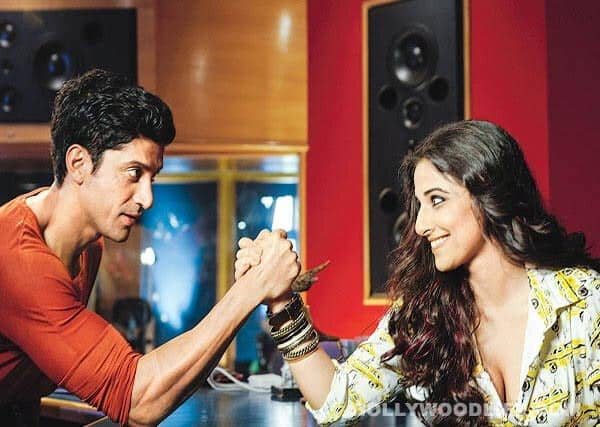 The 2006 movie Pyaar Ke Side Effects showed Mallika Sherawat and Rahul Bose pull each other's hair out in frustration. What will this year's pati-patni do?
What will this sequel, aptly titled Shaadi Ke Side Effects be all about? Now that's the simplest question of the day, right? For those who haven't guessed it yet, take a hard, close look at this image and we're sure the sahi jawaab will promptly pop up in your mind.
It's power struggle all the way for this one too, and perhaps a dash of the proverbial extra-marital affair to add the desired zing. But let's not go that far yet.
Right now you have a determined looking Farhan Akhtar trying to win a game of arm wrestling against the ever-smiling, cleavage-displaying Vidya Balan. Will he be distracted by the naughty peek, and lose? Probably. But that's just the beginning folks.
A happy looking Vids here symbolises that this is yet another story where a female, with all her charms intact, will emerge as the triumphant partner in the tug of power war that follows shortly after the…ahem ahem…first night.
Do you agree?