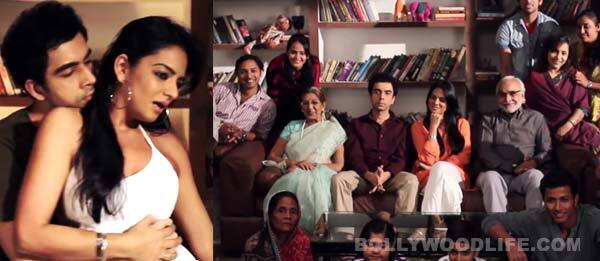 The makers have come up with some unique techniques to promote the film and describe the life of a couple 'before and after marriage'
Vidya Balan and Farhan Akhtar's upcoming release Shaadi Ke Side Effects has been on everybody's minds since the past some months. It is being touted as one of the most awaited films of this year and rightfully so the makers are promoting it in every possible manner. The most recent ones make us chuckle as they are quirky and aptly describe how things change between a couple before and after they tie the coveted knot.
Lovebirds to Angrybirds describes aptly how a guy reacts when a girl calls before and after marriage. It describes nicely how any guy loves talking to his girlfriend even to the extent that he leaves important office work for her and goes to meet her. On the contrary once he gets married to the same girl he finds the phone conversations long and boring. It would be fun seeing Farhan do the same to Vidya's phone calls in the film.
Shaadi Ke Side Effects dialogue promos: Farhan Akhtar indulges in 'potty' talk!
Baywatch to Baa-watch describes the way a couple watches TV before and after marriage. Before marriage couples enjoy a hot raunchy item song together and end up getting cozy following that. On the other hand once they tie the knot, forget about making out, watching a steamy song on television gets thrown out of the window, and the channels changed to parivarik soap operas aka saas-bahu serials. Also, as an added baggage, there are a numerous family members who never allow the couple some alone time. We have seen the promos and after seeing this advertisement we can imagine why Farhan's going to remain exasperated after the shaadi.
We hope to see many more such nok-jkoks between Farhan and Vidya in Shaadi Ke Side Effects.
[flv]http://st1.bollywoodlife.com/wp-content/uploads/2014/02/new-promo-merged.flv[/flv]