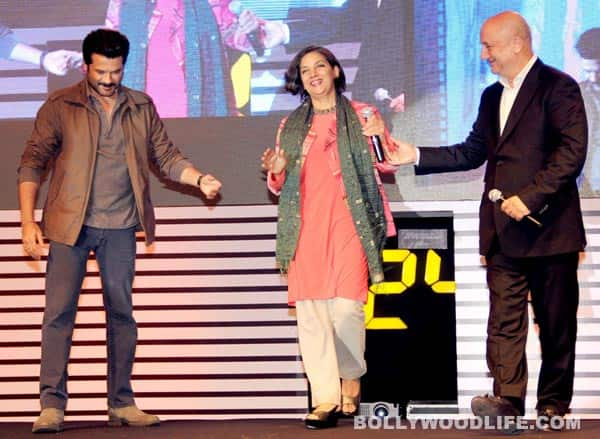 The veteran actor will be seen doing a cameo role as a senior RAW agent in Anil Kapoor's TV production 24
When asked how Anil managed to convince her to do a role in 24, Shabana Azmi said, "I was happy to do 24 because of Anil Kapoor, Anil Kapoor, Anil Kapoor. I have always associated him with excellence and quality. He has been a very dear friend for years now and I was fascinated to see the same dedication, sincerity and passion in him that I saw when I first worked with him in the movie Ek Baar Kaho 30 years back. You are an inspiration Anil, it was an absolute pleasure."
Shabana who recently celebrated her birthday also said that the international makers showed great trust in Anil and that itself is a huge compliment. "24 is already an established international brand and the fact that they trusted Anil to make the Indian version is a compliment enough."
The 62-year-old actor was also impressed by Abhinay Deo's style of directing and the whole experience of working with a young and energetic crew. She said, "The way Abhinay made me work in two days, I felt like, main kahan phas gayi? (Where have I got myself stuck?) But he kept smiling and saying, 'Ma'am, it's okay, no?' But his style of his direction is like doing theatre. The actor has to be prepared with all his cues well in advance. It's not like doing a film where the scene is shot in parts. Abhinay created a challenge for actors, which is wonderful."
Shabana will be seen playing the character of character Abhilasha Grewal, a senior RAW agent. The show offered her a role she had neither played in a movie nor in a play. "I enjoyed playing Abhilasha Grewal a lot. I have never done such a character either in theatre or films. It is a cameo role. She is a no-nonsense woman, who stops at nothing to get what she wants. The whole journey was very nice," said Shabana, who has been in the industry for almost four decades.
24 will air on Colors TV, every Friday and Saturday at 10 pm from October 4.
WATCH: Anil Kapoor's 24 trailer: Rugged, intriguing and intense!