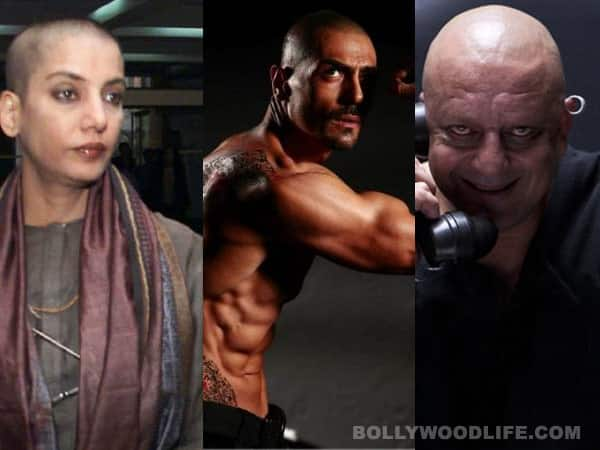 Films have often looked to larger than life historical figures for inspiration and Mahatma Gandhi has been the answer more often than not for filmmakers
Mahatma Gandhi's non-violence philosophy has been foundation of many Bollywood films. But the father of our nation has inspired Bollywood in more ways than the obvious. Many B-town celebs have been inspired by Gandhiji's look and have gone bald for their movies. So on the occasion of Gandhi Jayanti, we look at some B-town stars who took the 'bald' step and pulled it off effortlessly. With all due respect to our Mahatma, of course!
B-town actors who dared to take the bald route
Feroz Khan – The veteran actor shaved off his mane for Anees Bazmee's Welcome and we are glad he did. Not everyone can pull off this look, but Fardeen Khan's papa carried off his bald avatar with great élan, wethinks!
Sanjay Dutt – For Karan Johar's Agneepath, the Munnbhai actor went hairless and that's what made his character look more realistic, menacing and dreadful. Sanju baba not only won accolades for his performance, but his bald look made the new Kaancha an iconic character.
Arjun Rampal – After Ra.One, this handsome actor proved that pulling off any look for him is a cakewalk…hair or none! Arjun looks dashingly delicious, with or without his lovely locks.
B-town ladies who went bald
Shabana Azmi – The actor-cum-activist shaved off her tresses for Deepa Mehta's controversial film Water. Though the film was not shot in India but in Sri Lanka due to protests, Shabana Azmi looked amazingly sexy in her bald avatar.
Antara Mali – After playing glamorous roles in most of her films, this B-town babe went the bald way for her movie And Once Again. She played a monk in the film and the bald look complimented her sombre role quite well.
Nandita Das – Like Shabana Azmi, Nandita too shaved her head for Deepa Mehta's ambitious project Water. And this dusky lass sure made the 'bald' look beautiful.
B-town stars who refused to take it all off
Shilpa Shetty Kundra – She got the rare opportunity to go bald and beautiful for her film 'The Desire', but Shilpa had no desire to lose her hair. She chose to let prosthetics do the job instead.
Amitabh Bachchan – For the sequel of Welcome, Big B was supposed to step into Feroz Khan's shoes and even sport the same bald look. But the superstar refused to do away with his mane. Even in R Balki's Paa, the now-famous bald Auro look was make-up!
Shahid Kapoor – He is the latest on the I-am-not-going-bald list. Sasha is working in Vishal Bhardwaj's desi version of Hamlet titled Haider but, contrary to reports, the Kapoor lad will not be chopping off his tresses to make his character look authentic. Or so he insists…