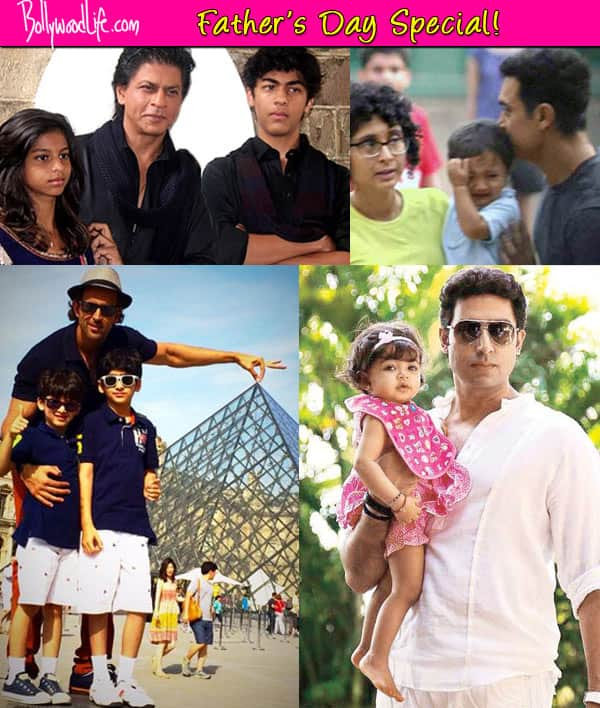 Father's Day is here. On this special day, let's celebrate with the cool daddies of B-town
Father's Day is an occasion to celebrate fatherhood. This day was inaugurated in early 20th century to complement Mother's Day. Anyways, the father-child bond is very special and we have seen this in B-town too, time and again. Despite ups and downs, flops and hits et al, popular celebs like Shah Rukh Khan, Aamir Khan, Hrithik Roshan among others, are doting dads who love spending time with their kids. Let's take a look at the coolest dads of B-town.
Shah Rukh Khan: The King Khan of Bollywood has three children, Aryan, Suhana and the lil AbRam. SRK regularly posts pictures with his children and tries to spend as much time with him as he can. He even watches chick flicks with his daughter Suhana and doesn't shy away from tweeting about it! Shah Rukh has even been voted as India's most popular father, and we aren't surprised!
Hrithik Roshan: The Krrish 3 actor was off on a vacation to Disneyland with his two sons Hridhaan and Hrehaan. He has been snapped with his cute kids on numerous occasions. Last month, the Greek God of B-town was caught and clicked with his sleepy son on his shoulder after a movie screening. Well, he's not only a hot hunk but also a desirable daddy, ain't he?
Aamir Khan: Aamir has three children, Junaid and Ira Khan and Azad Rao Khan. When ICSE results were out, there were reports that Aamir had sent the picture of Ira's marksheet to his close ones as he was thrilled that she scored 89 percent. The Dhoom:3 actor has even been spotted playing football with his lil son Azad. He might have a busy schedule but off the screen, Aamir is always spotted with his family.
Abhishek Bachchan: Bachchan Jr has one daughter, Aaradhya Bachchan, also known as Beti B. This child was in the news even before her birth. But Abhishek is a very protective dad. While most of the times, we get to see Aishwarya Rai Bachchan with their daughter, Abhi too has been spotted with his bundle of joy and he sure makes a caring dad! And if you ever ask about his lil one, you can't miss the protectiveness in his tone. Dads are such amiable gifts from Gods, aren't they?
Akshay Kumar: Akki has two children, Aarav and Nitara. Khiladi Kumar has been spotted with his son on several occasions. He has still kept his daughter away from the limelight and we can't blame him, considering she's still so little. However, he had once posted a picture of his daughter's tiny hand and all we could say was 'awww'!
Well, these are certainly the coolest dads of Bollywood. And this time around, we aren't going to ask you to vote for the coolest dad, coz every dad is special…