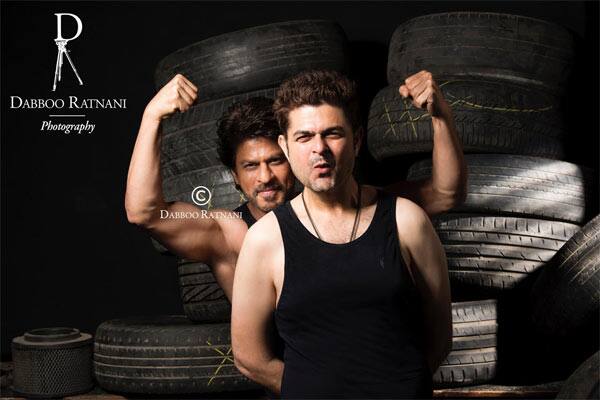 If there is one man who is aging gracefully, it is Shah Rukh Khan! The man has everything from good looks, a brilliant presence of mind and goofiness that is too sexy to handle. SRK shot for the Dabboo Ratnani Calendar 2017 and man did his picture look so damn hot! The actor is wearing a torn ganji and holding two tyres in his hands, we couldn't ask for more! But behind this hot picture there was a lot of goofiness and witty acts by King Khan. Shah Rukh already threw in a lot of funny comments in the video that Dabboo had shot for the calendar.
These pictures just add to the fun part of Dabboo Ratnani's calendar shoot. King Khan spoke about how he had a ripped outfit last year, too, for the shoot. He also added that he can't show what she has done with the back of the ganji that he is wearing. The Raees actor said," Next year I'm going to expose this couple for what they actually are. They are really really, they are perverts." He also adds," hey have been exposing and exploiting our bodies beginning from 2016. My deal with Dabboo now is that whatever he makes me wear, whichever pose he makes me pose in, I'm gonna make him do the same." (ALSO READ: Shah Rukh Khan makes some shocking revelations while shooting for Dabboo Ratnani's 2017 calendar – watch video)
And we have proof that he did this. Along with the extraordinarily hot photo shoot, there are these goofy pictures that SRK took with Dabboo. We also have the standard romantic SRK pose with him behind Dabboo. We know that shoot was damn fun after looking at these pictures. SRK even revealed that the only reason why his muscles look so darn good in the shots are because of the lighting by Dabboo. He added that it is the only reason why the other actors also looked so good in the pictures. Don't you think Shah Rukh Khan looks just smoking hot even in these pictures? Post your thoughts in the comments below and stay hooked with us for more.