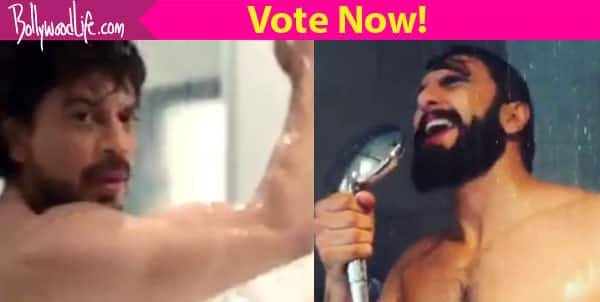 Gone are the days when men going shirtless created a sensation. Here's a new twist to it. Putting out videos of showering has become the new trend and our Bollywood boys too are living upto it. If you remember well enough, Shah Rukh Khan, as a part of his Dear Zindagi promotions, shared a shower video of himself! Yep. That happened. And boy was it panty-dropping hot! Sorry for the excessive detailing for the emotions we went through as we saw his shower video but had you been in our place, you'd have been able to comprehend our feelings. Anyway, in the video, SRK was basically answering Alia's one such life query. Of course, the video gave us sleepless nights thanks to the amount of sexiness exhibited by the actor with the well toned body and the badass tattoo. Only a fool wouldn't find it hot. So as we were watching the video in loop, on the following day as well, it brought back memories of Ranveer Singh.
On the trailer launch day of Aditya Chopra's Befikre, Ranveer also decided to hit the shower and have himself taped whilst he sang a ballad for his filmmaker to hurry up! With Singh's new look for Sanjay Leela Bhansali's Padmavati making a striking appearance on the video he shared on his Instagram, the hotness level of the actor took a drastic new high. The way he held the hand shower and swiveled as did a little bathroom singing for us and how he ended the performance with a naughty laugh was enough to leave us breathless. Ah, memories. Oh wait, we don't need memories. We got the video right here! But not that soon, folks. With two Bollywood hunks making their shower debut look slick and sexy, we reminisce times when actors took bathing onscreen rather seriously! Scroll away and check out our list of Bollywood actors who showered on camera. P.s. this article is going to be a little adult for majority crowd's taste so offense is a word not allowed! (ALSO READ: Shah Rukh Khan's this shower video is giving us DIRTY thoughts)
Shah Rukh Khan
Although he has done this in a few of his films in the past, this one is way too awesome compared to them. Credit him growing older that he has turned sexier. Notice how you can see the the entire tattoo of his that he initially sported before he left for his vacation with family to US. Now if that isn't worth all your time then what is? Totally pants dropping, this video!
This @aliaa08 has no sense of timing. But I have to answer her….wherever I am. Hope the poster helps. #DearZindagi pic.twitter.com/VuNfdbj3dM

— Shah Rukh Khan (@iamsrk) October 18, 2016
Ranveer Singh
Perhaps Mr Singh has already learnt about the fact that his sexiness is delicious and edible. We wouldn't mind him strip for us as we can take the whole scenario with a pinch of salt and enjoy. Now imagine if this hottie decides to shower for us. Without a doubt we'd drop everything and get ourselves hooked to the video. And that's exactly what we did. We suggest you do the same and marvel at this piece of art.
Shahid Kapoor
We're gonna get a little technical now as so far only Singh and Khan have given us a peek of their bathroom rendezvous. Here's Shahid, stripping off and enjoying some shower in the film Mausam. As an officer, the moustache sure works wonders, not to forget the droolworthy sight of his muscular body. Check out the video below and see it for yourself!
Ranbir Kapoor
Many focus Ranbir's Rajneeti shower scene to the fact that his bae is joining him as he's cleansing himself. But we here are going to take a moment and perhaps just give RK Jr the limelight for the raw masculine body he's showing off whilst taking a shower. The Ae Dil Hai Mushkil actor can literally get into your skin by his charming looks and latent sexiness!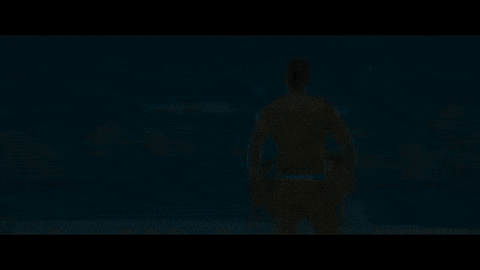 Shut up and bounce, will you John? Hey, that's just the song in which he's just in his trunks! Although we wouldn't mind seeing a little nasty side of his but for now let's not act greedy and satiate ourselves to this shower video. Now Abraham surely took up the shower challenge up a notch by being creative and using an open shower by the beach. In the song, it's him who gives up his trunks to the ladies in the beach but we all know that deep down, it's us, stripping down for him.
Having finished with our estrogen filled post, now's the time to ask you of your opinions. However, unlike the usual 'tell us in the comments', we'd like you to vote for who according to you looks the sexiest in shower. So what are you waiting for, Christmas? (Excuse the random Bollywood dialogue) Vote for the best! But do not forget to share your thoughts on these hunks taking a shower on camera, as a vote won't be able to express your plight of seeing so much hotness, right? Also, stay tuned to this space for more gossips and latest updates.
Shah Rukh Khan and Alia Bhatt have fun playing Kabaddi on the beach.

Shah Rukh Khan teaches Alia to play Kabaddi with the sea. The two running on the beach, playing is the cutest thing you will see today.

Shah Rukh Khan shares an adorable childhood memory with Alia Bhatt.

Shah Rukh and Alia have an Aww moment together as he talks about his childhood memory of his dad which leaves Alia amazed.

Shah Rukh Khan offers a helping hand to Alia Bhatt as she falls off the cycle.

Shah Rukh initially offers a helping hand to Alia as she falls off but then cycles away. We love the fun filled, laid back relation the two share in the teaser of Dear Zndagi.

Shah Rukh Khan looks at Alia Bhatt in the cutest way as they cycle together.

This picture of Alia Bhatt and Shah Rukh Khan will surely make you jealous. Shah Rukh gives Alia an adorable look which is turning us green with envy.

Alia Bhatt's dimples will instantly remind you of Preity Zinta

Alia's this still from the teaser of Dear Zindagi is super cute. This image will instantly remind you of Preity Zinta with her dimples.