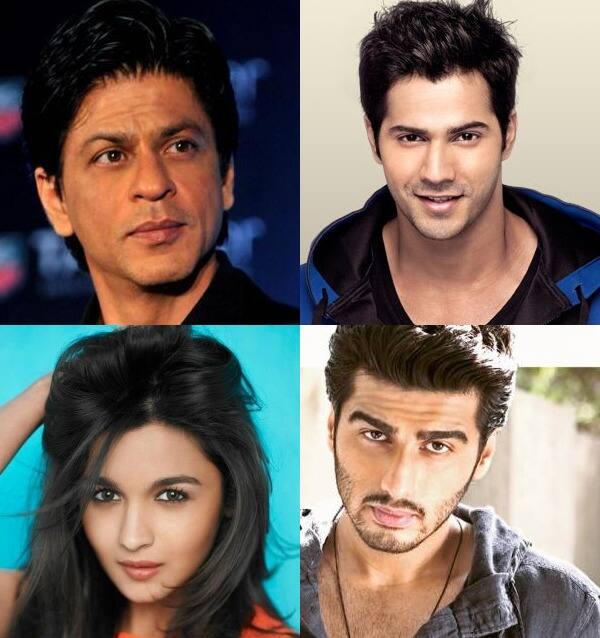 Rumour has it that Bollywood's three rising stars may share screen with King Khan
The duo of Sajid-Farhad, who are busy with their upcoming Entertainment which is to hit the theaters soon, had earlier confirmed to a leading daily that they would be making a film with Rohit Shetty.
In a turn of events, it is being speculated that the duo approached Rohit with a story that is more of an ode to the good old '80s. Rohit, who is busy finishing the final edits of Singham Returns that hits screens next month has not yet confirmed to the same.
But if reports are to be believed, the film will feature Shah Rukh Khan alongside two of the most dashing new heroes who have caused a stir in the industry- Varun Dhawan and Arjun Kapoor. In a role of a lifetime, Varun and Arjun will be playing brothers to SRK, in the film which is tentatively a comic caper.
Rohit, who was planning to make Chennai Express's sequel, Punjab Express with Shah Rukh Khan ahead of any other film might rethink and start on this film first. Talking to our sources, we have learnt that the film will be a remake of the 1958 flick, Chalti Ka Naam Gaadi. The older version featured Kishore Kumar and his two brothers Ashok Kumar and Anoop Kumar in lead roles, which will be reportedly essayed by SRK, Varun and Arjun in the remake. Reprising Madhubala's role from the original would be the bubbly Alia Bhatt and having all four of them together on board looks like a fun riot of sorts! But all of it is mere speculation and official confirmations on these reports are yet to come, since nothing seems to have been finalised as of now.