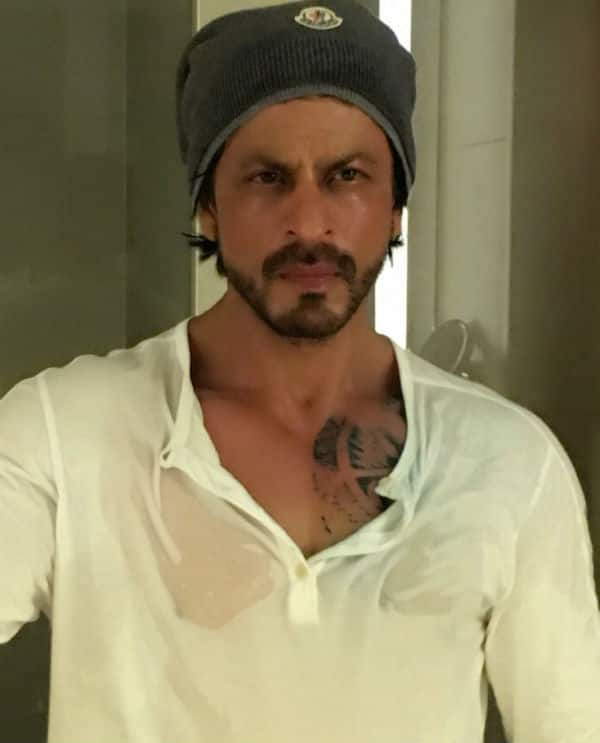 Okay, let's just take a moment to say that Shah Rukh Khan's Amsterdam schedule has by far been the best! No seriously! Right from the very first day, Shah Rukh has been sharing some of the coolest stuff from the sets. Take for instance the time-lapse video of him synchronizing with a windmill or say his 'who let the dogs out' moment – oh! This man exactly knows how to keep innovating with his tricks to keep us happy. I mean,  which other superstar even puts in half the efforts to get this kinda treats from the sets? Nevertheless, Shah Rukh seems to have made the most out of his stay in Amsterdam and finally before he leaves the city, here, he even posted this yet another crazy video of him goofing around. Yes! Also read: Shah Rukh Khan is relearning an amusing way to use PICK UP lines from Aryan and AbRam and you gotta watch it!
The video basically shows a lady jumping like a gymnast over SRK while the latter is safely bowing by bending down on his knees. Although it doesn't show SRK's face but the caption of the video says it all as Shah Rukh took to Twitter saying, "Thank u AMS & Amsterdam for such a wonderful schedule. Ur production does that nobody else can.Will Miss the canals." Indeed, we too will miss your love from Amsterdam, Shah Rukh.
Not to forget, a fan club of Shah Rukh too had shared a pic of the actor along with Anushka Sharma and director Imtiaz Ali chilling with the guys from New Amsterdam Film Company. The Insta handle of the same put out this pic where SRK and Imtiaz are seen wearing this funny captioned t-shirt which says. "Maine Amsterdam mein film banaye aur badle mein mujhe yeh ghatiya t-shirt mili." (I made a movie in Amsterdam and in return I got this lousy t-shirt.) NewAmsFilmCo further captioned this image as, "We truly had a blast the last two weeks with these superstars from India. Many thanks to @iamsrk, @anushkasharma and director Imtiaz Ali for your devotion, energy and the wonderful collaboration. It was an honor having you and we'll miss you in Amsterdam! #newamslineproduction #thering #bollywood #setlife"
Which means, it's a final goodbye for Amsterdam from the team of The Ring! But we really hope Shah Rukh continues to keep posting these funny videos. Watch this last video, right away and do share your thoughts in the comments!